We are delighted to announce that Hoskins Road resident Lizz Lindsay has been named the recipient of this year's LynnValleyLife Good Neighbour Award.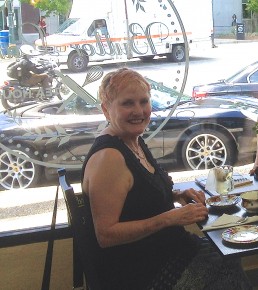 Lizz is known to many in Lynn Valley. Now retired from her Vancouver Community College teaching career, she is more involved than ever with the life of the people in her community. She is an ordained deacon at St. Agnes' Anglican Church, and the chaplain of the Lynn Valley Legion. But perhaps she is best known for her Sharing Abundance society, which she founded in 2009 to offer a place at which people in the community could meet around a lunch table.
According to the Sharing Abundance website, "Prior to the incorporation of this non-profit society, there was no place on the North Shore where community members could gather and linger over a delicious meal served to them by friendly volunteers. Our guests are new Canadians, homeless, folks on disability pensions, families and young people, seniors, veterans and those dealing with social isolation caused by disabilities, poverty and/or addictions. Those who can donate something towards their meal are invited to do so; those who don't are graciously welcomed."
There are now six community meals offered every week across the North Shore. Some are lunches and some are dinners; some are seniors-oriented and some are not. All have become places of  well-attended warmth and hospitality for guests and volunteers alike. Costs are kept down with grants and donations of goods and food. As you'll see, sponsors include the Lynn Valley Legion and the Lynn Valley Lions – so when you buy your Christmas tree from the Lions, you're helping to support programs like this one.
Wilna Parry of Kirkstone Road nominated Lizz for our Good Neighbour Award. "In my mind, Lizz is a prime candidate for the Good Neighbour Award in Lynn Valley. They've lived on Hoskins Road for years and years…. She's doing amazing things, and is simply tireless in feeding the lonely and homeless. For the last two weeks I believe Lizz, Bette and volunteers served nearly 500 meals to people at several locations through North Vancouver."
Thank you, Wilna, for nominating Lizz. We look forward to presenting her with the LynnValleyLife 2014 Good Neighbour Award, and know she will continue to serve as an inspiration to all the other good citizens of the valley.
***
We heard about some of those other good citizens during this year's Good Neighbour campaign! Here are some of our favourite stories. Thank you for your nominations, and we look forward to reading more next year!
Shula Klinger wrote this about her neighbour, Maureen Munroe: She is an extraordinary human being. Intelligent, warm, compassionate, unfailingly helpful and hysterically funny. When we had to make a rush trip to the ER, she stopped by with two pizzas for our dinner. I barely knew her! She displayed a tuly remarkable generousity and willingness to drop everything to help us…. She has taught me so much about what it means to be a good neighbour and what a really good neighbourhood can be. Our little corner would be good without her, no question, but with her it shines, it sparkles, and it makes me proud to live here. And besides, my extremely discerning children adore her… Which is all the guidance you could need.Maureen is like the heart of the neighbourhood.. The block party takes place in front of her house (heroic!) and she is the most hospitable person I have ever met. I have been so deeply grateful to have her close by."
***
Chris Trendell sent this in about her longtime neighbours, Jim and Martha Wright:
"The Wrights are quiet people. They have lived in Lynn Valley since before almost all of us who read this were born. Since their children have grown, they haven't been the ones who draw out the neighbours by letting off fireworks in October or by clanging pots and pans on New Year's Eve.
Yet, draw the neighbours they do. Over the years many people have gone to their door and started the conversation with "Would you mind having a look at this, Jim – it's stopped working as it should," or to Martha: " When is a good time to split this plant?" or  "May I come over the next time you preserve so that I can learn how?" or "What kind of a bug is this ? Will it harm the plants?"
Even though their house and garden are immaculate, they never seem to be actually doing the work, as they always have time to put the kettle on and listen to your concern or about your child's achievement.
Lessons could be learned from the Wrights' use of our resources. Jim's compost pile could have been elevated into the classification of "Art". The 40% wasted food we evidently are guilty of certainly does not apply to Jim and Martha. Martha has developed the science of knowing exactly how much water to put into the kettle for a given number of cups of tea so that there is no wastage of water. Much of the berry crop on the sides of our roads is picked by Martha and within a few hours are in gleaming bottles on her kitchen counter. They have always had that attitude that you don't buy anything you don't really need. They were 'way head of the curve on that one. And Jim was the one, in snowy winters, who with his small plow kept our sidewalks clear and the path to Upper Lynn School safe."
And finally, Lizz herself nominated her own neighbour early in our Good Neighbour campaign: "Christine Smith constantly goes above and beyond for all of us. Her home is full of her kids who need a break on their rent and some Mom care, she always has the Vic's and cough syrup ready to pass over the fence, even in the middle of the night and can be counted on for selfless support in any situation. Her support and caring for us, her fortunate neighbours makes our community a kinder place. We love you Christine!!"
***
Thank you to everyone who sent in your stories and shared them around on our Facebook page. If reading these stories has stirred thoughts of greater volunteerism in you, please consider joining a community group such as the LV Community Association, the LV Lions or the LV Legion, pitching in at the neighbourhood school, or just taking time to lend a hand to those who might need it, as did friends and strangers alike following the flooding of this Lynn Valley home.
From the team at LynnValleyLife, thank you to all those community organizations and individuals who make this neighbourhood a safe and happy place. We wish you every good thing in the year ahead!