There's a great new North Vancouver District program that can improve your life – and your community – all at the same time.
Whether you want to teach your kids responsibility, lose a few pounds, get your partner out walking with you more, meet your neighbours or help the environment, the new Adopt a Street Program may be just the motivation you're looking for.
Courtenay Fraitzl, DNV Community Beautification Coordinator and (we're proud to say) Lynn Valley native, says the Adopt a Street campaign is designed to strengthen ties not just within neighbourhoods, but between residents and their local government.
"It's about making the District more accessible," she says, noting that while the volunteer litter removal program does indeed help the District's bottom line in times of tightened budgets, it's also about residents having the opportunity to work more closely with people in the District, and have a conduit for reporting issues such as graffiti, blocked storm drains, etc.
Courtenay has been making the rounds of various community organizations to spread the word about the the Adopt a Street program. (She says she's happy to come out to more, so keep her in mind for your next local meeting!) She encourages individuals, families, businesses, schools and other groups to consider getting on board with a street of their own. Courtenay is hoping people will aim for adopting a one-kilometre stretch of roadside, but will work to find a solution for individuals who might find that daunting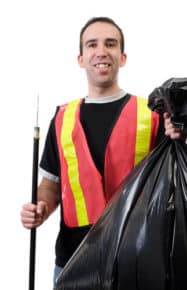 Once they have signed up for their area, volunteers are given safety instructions, reflective vests, litter-removal tongs, garbage bags and gloves. They are asked to clean up their street on a monthly basis, and to provide a brief report on how it went and any maintenance issues the District should be aware of. Teams will be recognized with an Adopt A Street sign posted on "their" street.
Courtenay, a mother of two, says she knows how busy life is for most people. That said, she's confident the enjoyment people will get from meeting their neighbours and doing something positive in their community will be worth it.
Although Courtenay has only been at the Community Beautification post for six months or so, she is probably known to many North Vancouver families from her previous job; since 1996 and up until last summer, she was a district worker at Maplewood Farm. She obviously hasn't cut all ties there; she gave us an enthusiastic report of all the pre-springtime farmyard activity under way at her old stomping grounds.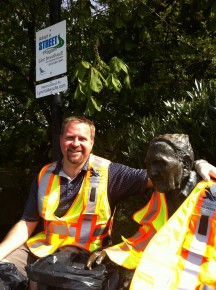 To contact Courtenay or learn more about the Adopt a Street program – and to get your pick of roadway! – click here or call the number on the graphic above. We had the honour of being this neighbourhood's first street 'adopters', so if you see us LynnValleyLifers out patrolling our patch on the streets surrounding Lynn Valley Park, Lynn Valley Elementary School, and Pioneer Park,  be sure to honk. We'll be the ones in the uber-cool vests!