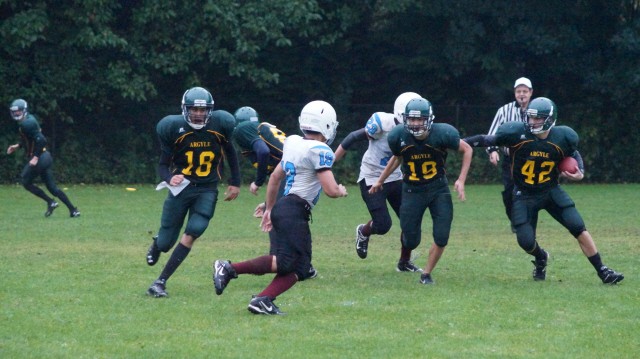 Three hundred fans came out on Saturday afternoon to support the Argyle Pipers Senior Football team at their first home game in 31 years. All this Piper pride paid off as the boys in green racked up their first victory in the season, with a score of 36-0 against Eric Hamber Secondary of Vancouver.Here is a post-game wrap-up from co-coach Dave Heskin. Thanks to parent Doug Yip for the photos!
Personally my favourite part of the game was meeting Dave Backie, Argyle's coach from 1981, who was so happy to be a part of our event. [Ed. note: The Backies are long-time Hoskins Road residents.]
It was also really exciting to see our Grade 12 running back [Stuart Bourne] score our first points of the season in the AA football ranks.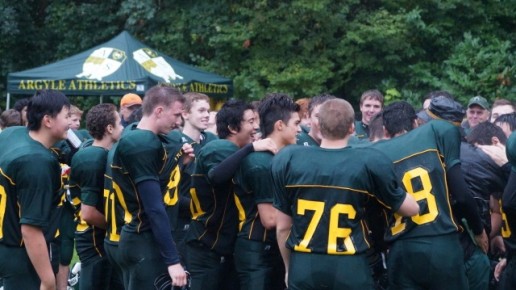 The success of this event was a testament to the hard work by our parent volunteers, staff supporters (teachers and administrators), coaches and especially the players, who really deserved this win.  We have been challenging them to get better as players and as a team each week, and the hard work paid off.
The timing is great as the team now heads into the final third of the season, with two big games against cross-town rivals Windsor and Carson Graham (on the next two consecutive Fridays at their fields). Then they round out the season vs. the #1 provincially ranked John Barsby of Nanaimo on their home field.
Thanks again, Lynn Valley, for all your support!
– Coach Dave Heskin