When North Van District Assistant Fire Chief Curtis Bremner set out to research preventable deaths in North Vancouver, he was surprised at some of the facts he discovered.
First, a report from the BC Coroner Office revealed that the average age of people who are victims of an "accidental" death in North Vancouver District is 60 years old. "I thought that was a bit high," he says, and kept teasing out the numbers. It turns out that one factor pushing that number up is the fact that the average age of people who die in a fire in North Vancouver is 70 – fifteen years older that the average in the rest of Metro Vancouver.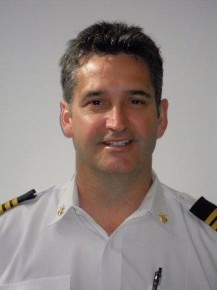 That was just the kind of information Bremner was looking for. The assistant chief, in charge of professional development and training, is in his second year of the National Academy's Executive Fire Officer Program, and was searching for a research topic that would address some aspect of community risk reduction.
More information emerged from another source. During an energy audit program designed to assess the energy efficiency of residential homes in Blueridge, the Fire Department used the opportunity to assess the level of fire safety awareness in the typical residential home in North Vancouver.
These home inspections revealed that all but one home had a smoke alarm. However, none of the smoke alarms were tested regularly and only a few residents actually changed the batteries annually. Many of the alarms were past their expiration date and 35 per cent of homes had inadequate coverage.  When he found that the unknowing home owners were often seniors, Bremner knew he'd found his project.
Now he will be investigating smoke alarm programs for seniors, and is looking for volunteers who are 65+ to help him out. Since Lynn Valley has the highest density of seniors in all of North Vancouver, he's hoping LynnValleyLife readers will answer the call.
Whether you live in a single-family home, a garden apartment (ie a three-storey walk up), a highrise or a townhouse, Bremner and the District of North Vancouver Fire and Rescue Services are offering to come out and do a home safety audit, check your existing smoke alarm or match you up with a better one if necessary, answer questions and give information on fire safety in your home and  how to respond correctly in the event of a fire.
It's all part of his research, which will be turned into a stringently reviewed, published paper that will add to the body of knowledge shared by firefighters throughout North America. Once that's done, he will be halfway through the demanding four-year program.
If you'd like to help Bremner with his project, and improve your own home safety, please contact him at [email protected] He will be out of the office from Aug. 17 to Sept. 6, and hopes to begin the project Sept. 15, so the sooner you get in touch, the better. No doubt we'd all like to see those preventable death statistics drop dramatically in the future.
– Peggy Trendell-Jensen, editor