Bob Rasmus is one of our Lynn Valley neighbours featured on the Lynn Valley Legacy website that is collecting names from readers – not just of notable neighbours who deserve the spotlight, but of potential names for the new Bosa development being built at Lynn Valley Centre. Visit the Legacy website before January 31 to participate – there is a $2,500 prize to be won!
These profiles and photographs are being shared with LynnValleyLife readers with permission of the original author.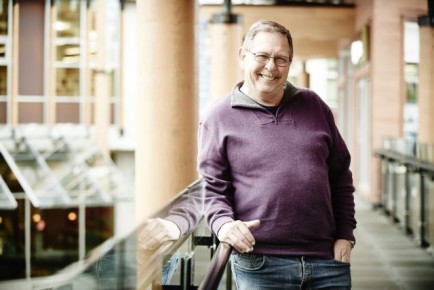 Bob stood on the board of directors of the BC Lions Society for Children with Disabilities, was a chair and provincial representative of the National Diabetes Association Liaison committee, and a Lynn Valley Lions member for 25 years.
WHAT DO YOU FEEL TRULY DEFINES LYNN VALLEY AS A UNIQUE NEIGHBOURHOOD?
I like how Lynn Valley has the feel of a small town, but without all the gossip. Its community is an inherent part of its identity. Many of our neighbours are community minded and do things in support of our community.
WHAT IS YOUR HAPPIEST MEMORY OF LYNN VALLEY?
About 15 years ago, when I owned my own construction business, a single mom approached the Lions Club, of which I was a member, asking for our assistance.
She had a seven-year-old son with severe cerebral palsy and needed to renovate her home to add a system of rails that would help transport him from the bedroom to the bathroom, which would cost her around $15,000. The mother's approach impressed me so I put together a small team to do a free renovation. That's one of my happiest memories. I still see the mother around the neighbourhood, one of the nice things of living in an intimate community.
WHAT DO YOU SEE FOR THE FUTURE OF LYNN VALLEY?
Well, more people and traffic congestion is inevitable, but more bodies will help keep the taxes down. We'll have to do our best as a community to maintain some of the small-town feel.
Do you know someone who has, or is, making a lasting impact in our neighbourhood? Visit the Lynn Valley Legacy website to nominate a fellow resident of our community, or suggest a name for the new development being built at Lynn Valley Centre. Deadline for both is January 31, so throw your hat in the ring by then if you'd like to be eligible for prizes!