Michelle Andreychuk is one of our Lynn Valley neighbours featured on the Lynn Valley Legacy website that is collecting names from readers – not just of notable neighbours who deserve the spotlight, but of potential names for the new Bosa development being built at Lynn Valley Centre. Visit the Legacy website before January 31 to participate – there is a $2,500 prize to be won!
These profiles and photographs are being shared with LynnValleyLife readers with permission of the original author.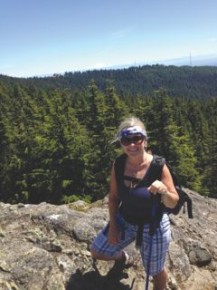 Michelle has been involved in the community for over twenty years, having raised two kids in the neighbourhood and been in attendance at all of their school events and extracurricular activities over the years.
WHAT DO YOU FEEL TRULY DEFINES LYNN VALLEY AS A UNIQUE NEIGHBOURHOOD?
It offers so much on the nature side of things. There's mountains, rivers, biking trails, swimming holes, and some of the most beautiful scenery in Canada. When it comes to the people, I like how I can go anywhere in Lynn Valley and see a familiar face.
WHAT IS YOUR HAPPIEST MEMORY OF LYNN VALLEY?
Lynn Valley holds many memories for me as I've been living here for 28 years. But my most cherished is of my first house on Appin Road, with a magnificent view of the Green Belt with the fire going in the winter, or going around the neighbourhood with my kids in the spring on an Easter egg hunt.
WHAT DO YOU SEE FOR THE FUTURE OF LYNN VALLEY?
I see a lot of high rises going up, which could lead to more congestion getting to Highway One. The mall may have to improve its parking lot as population increases, but all of this can be productively planned and proactively managed.
Do you know someone who has, or is, making a lasting impact in our neighbourhood? Visit the Lynn Valley Legacy website to nominate a fellow resident of our community, or suggest a name for the new development being built at Lynn Valley Centre. Deadline for both is January 31, so throw your hat in the ring by then if you'd like to be eligible for prizes!