About a year ago, North Vancouver women were invited to write a 2,000-word biography of their mother as part of a new project launched by the Mothership Stories Society. In October, a book launch and theatre production will give you the chance to be captivated by the stories that resulted.
Since 2004, the non-profit organization organization founded by Marilyn Norry has solicited, promoted, performed and published the stories of ordinary women written by ordinary daughters. But as participants in the various "My Mother's Story" projects always discover, there is no such thing as 'ordinary' when it comes to talking about mothers and their varied lives – what's astonishing in one family is commonplace in another.
You can read two hundred or so of these collected stories on the website archive, but next month you'll have the chance to see several of the stories from the most recent North Vancouver project co-mingled in a dramatic presentation at Presentation House.
Of the 60 stories submitted by North Vancouver women, eight will be featured in My Mother's Story: North Vancouver, and 41 will be published, along with photos, in an anthology that will also be launched next month.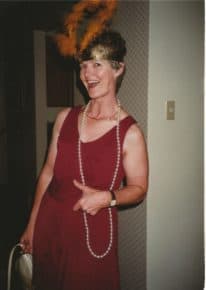 The play is sure to evoke a variety of emotions, and provide the audience with many conversation-starters as they see a picture of North Vancouver's social history emerge from the stories of some of its residents.
Happily, Lynn Valley daughters and mothers are well-represented. Pat Ceraldi writes of her mother, Dorothy McMillan, who lived the life of a diamond driller's wife, moving from the dust bowl of the prairies to the wild outposts of northern Manitoba; to the glamour of Toronto and finally west to her Vancouver family.
Aranka Lukacs, client services representative at the Lynn Valley RBC, tells of her mother wanting the freedom that was denied people in Hungary during the 1940s and 5os and up to the 1956 Revolution, and how her search for that freedom brought her to Canada and a whole new world.
Maria Torres writes of her mother, who came here from Portugal at sixty years of age with two requests: the chance to learn English, and to get a job.
Other Lynn Valley writers include Suzanne Rayment, Jean Redpath, Sandy Crawford, Patricia Young, Janet Dysart, Peggy Trendell-Jensen, Suzanne Ristic (who is also performing in the play), and Grace Gordon-Collins. Each story is as unique as the woman who inspired it.
My Mother's Story: North Vancouver runs from October 17 to 28; more information and ticket sales are to be found on the Presentation House website. For a sneak preview of some of the North Vancouver mother's stories (or to learn how to write your own!) check out the My Mother's Story website and have a look through its archives.