Before Mollie Nye bequeathed her home to the District of North Vancouver, the Lynn Valley schoolteacher could often be found canning the harvest from her vast garden or baking pies in her small kitchen. That pioneering creativity will be brought back to life as Mollie Nye House celebrates its centennial with a Saturday, September 21 event that will include an old-fashioned fall fair.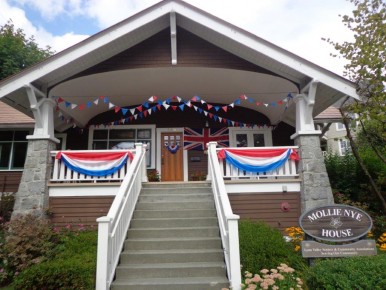 The craftsman-style house, built for Mollie's parents Jack and Olive in 1913, will be the belle of the ball from 11 a.m. to 3 p.m., surrounded by people in vintage costume, a model train display, community booths and family activities. Featured will be a traditional fall fair competition in which local residents are invited to become friendly rivals for baking and crafts honours.
Prizes will also be awarded on that day to the winners of the neighbourhood's Project Sunflower campaign, for people who have grown the tallest or most sunflowers.
Mollie Nye House is operated by the Lynn Valley Services Society, and is home to the Lynn Valley Community Association and Lynn Valley Seniors Association. It houses a variety of programs for all ages.
The creation of Lynn Valley Services Society (LVSS) in 2012 was the evolution of a 10-year partnership between Lynn Valley Seniors Association and  Lynn Valley Community Association with the District of North Vancouver.
In 2003, both associations undertook to manage the day-to-day operations of the Nye House on behalf of the District. This was done through the provision of seniors' programs during the weekdays, with other community use and rentals on evenings and weekends.  These same associations now work together to bring the community in to Mollie Nye's house.
Says operations manager Helen Wait: "In the future,  LVSS will continue to provide a well-managed centre that welcomes the whole community every day.  As a registered charity and community services society, LVSS looks forward to working with the District of North Vancouver as well as other groups and facilities in Lynn Valley."
For more information on the house, its programs, and the upcoming centennial event, visit the Mollie Nye House website.