It's hard to believe, but our local Starbucks coffee shop has been in business for 20 years, and LynnValleyLife was fortunate enough to be there to celebrate the occasion.
Friday, September 13 was anything but unlucky for people who were in the shop just after 11 a.m. They were treated to a cake-cutting, a mini coffee 'tasting' tutorial, and a generally festive atmosphere.
More than that, however, it was lovely to hear a Lynn Valley Lions member, Mayor Richard Walton, and building owner Trudy Duller speak so warmly about the staff's commitment to community service and the important role Starbucks has played in the neighbourhood.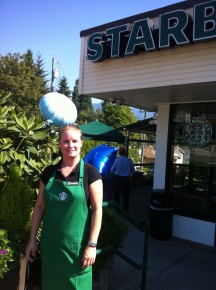 That commitment was underscored by Dionne Richmond, who has been manager of the Lynn Valley Starbucks for the past six months. She encouraged groups and individuals to approach with community requests, saying she loves to get on board. "If you want us, we're here," she emphasized.
Local residents may not know that the Starbucks building has been owned by Trudy and Karl Duller, former owners of the Family Gourmet Deli in the mall, for more than two decades. In her short talk, Trudy laughed at herself for being a little tearful at the happy occasion, but said how satisfying it was for her to have such community-minded tenants.
She and the mayor later shared a laugh, too, recollecting that Richard Walton had originally wanted to lease the space for a business venture in his pre-mayoral days. Now, he told the guests, he is just glad to have Starbucks shops on hand to send people happy on their way to work in the morning, and complimented them on their high standard of customer service.
Trudy, who recalls early Starbucks founder Howard Schultz being present at the Lynn Valley grand opening  two decades ago, says another celebration will happen next year, when Pizza Hut will be marking its own 20-year anniversary in our small town. Like we said at the beginning – time flies!