It was swing-your-partner time Friday night as the District of North Vancouver hosted a dinner and barn dance to thank the many volunteers who take part in the muncipality's outdoor programs.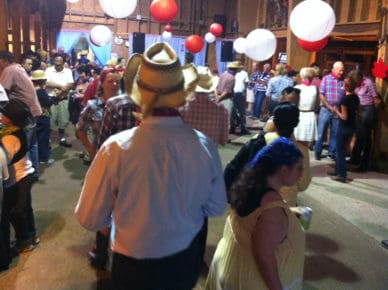 Maplewood Farm helpers, parks and trails workers, Adopt a Street volunteers and others were all in attendance at Maplewood Farm to hear a few speeches and dance to the tunes of a fiddle band headed by newly retired DNV sign-maker extraordinaire, Cam Stewart. A special guest in attendance was former parks director Dirk Oostindie, whose energy and vision resulted in the creation of Maplewood Farm as a municipal park.
Trail and Habitat co-ordinator Graham Knell spoke about the huge impact volunteers have on our local landscape, both those who take part in the DNV outdoors programs as well as people in the wider community who gather armies of volunteers to work on neighbourhood parks clean-ups, salmon-enhancement projects, trail building and more.
It was a HUGE list of groups he named – way to go, North Van! –  and he gave special mention to the Lynn Valley folks who worked with the District to clean up Doran Park this past year. He was very proud to report that 49 one-tonne trucks of invasive plants were carted away as a result of all their labour (and a tip of the hat was also given to the visiting American navy cadets who literally marched down the street to help out!)
If you'd like an invite to next year's hoedown (and who wouldn't, we ask?) just get on board with one of the many District outdoor programs. Graham says he's got the best job ever – he's always surrounded by smiling volunteers who love what they do! Contact details and more info are here.