The Christmas season is officially arriving at Lynn Valley in the days ahead, and we can't wait! (And remember, a great way to celebrate the season is to let us know about the people who have made our community a better place in the last 12 months, in ways large or small. Nominate them for the LynnValleyLife Good Neighbour Award now!)
Do you have a Christmas event you'd like us to promote? Drop us a line at [email protected] and we'll make sure it gets on our Events Calendar and/or Facebook page. 
Mollie Nye lights the sky
On Tuesday, Dec. 1, Mollie Nye House hosts its traditional Bright Christmas from 7 to 8:30 p.m., at the community's heritage home at 940 Lynn Valley Rd. A lantern parade will gather at Karen Magnussen Rec Centre at 6:30 p.m. and process to Mollie Nye House,  where everything from gingerbread and ornament making to science experiments to carol singing will accompany your hot chocolate and cider. Santa will count down to the grand light-up at 7 p.m. sharp! Sponsored by the Lynn Valley Services Society.

LV Village trees a' twinkling
Lynn Valley Village will come alive with the lights of dozens of Christmas trees, with a special "Lynn Valley Christmas" light-up ceremony happening on Sunday, December 6 at 4:30 p.m. You can look forward to crafts, carols, face painting and balloons and a visit from a very special guest! This great community forest of twinkling trees is sponsored by the LV Community Association, the LV Lions (who provide the trees), the LV Legion and NV District. Attendees to the light-up event are encouraged to bring a gift for the LV Legion's Toy Drive (speaking of which, read on….)

Legion hosts 'drive n' drop' gift drive!
The Lynn Valley Legion members hold a Christmas gift drive to support the work of the Salvation Army every year, but this year they're inviting everyone to join the fun!
Wednesday, December 9 is "Drive up 'n Drop off" day from  7:30 – 11;30 am. You can "drive thru" with your gift and receive a complimentary muffin and coffee in return, or you're warmly invited to park your car and come on in for a pancake breakfast!
This is great way to involve your kids in some Christmas giving – they probably know better than you do what gifts would be most appreciated under the tree! Gifts for newborns through young adults are very welcome. If you don't have a resident expert to advise you, the Legion has published the following wish list: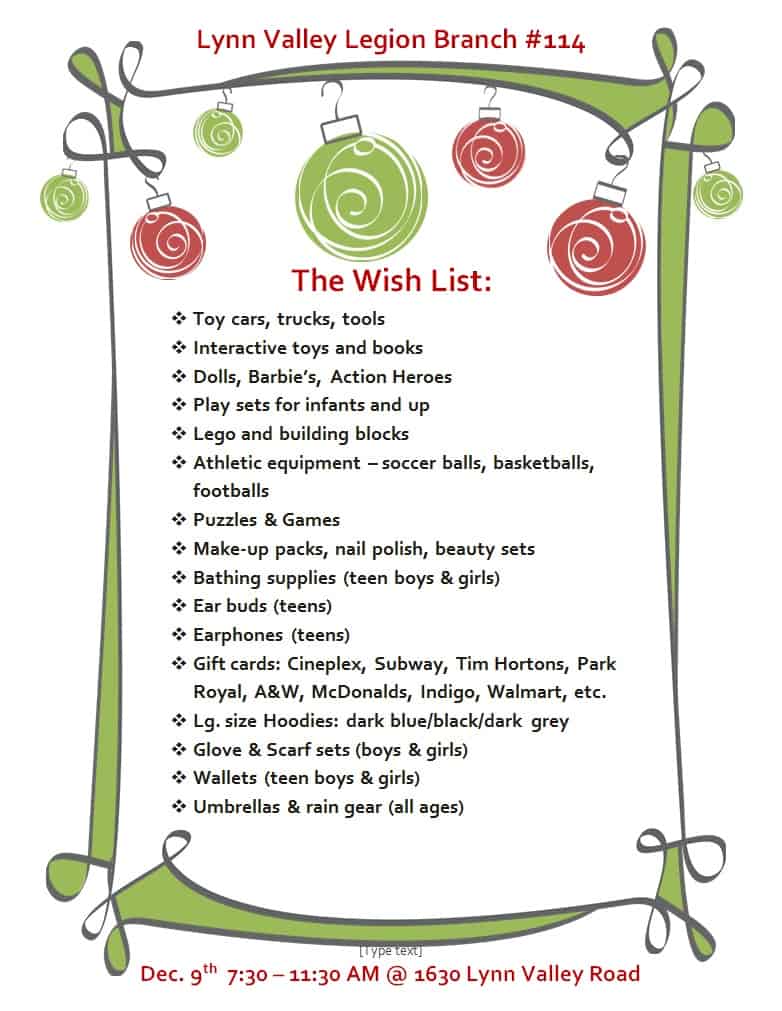 LV Lions have a tree just for you!
Put your Christmas spending dollars to work in your community by supporting the Lynn Valley Lions' annual Christmas Tree Sale.
The Lions will open their tree lot on Saturday, December 5, in Karen Magnusson Rec Centre's upper parking lot.  The lot is open every day until all the trees are gone – and no one knows exactly when that will be, so make sure you get yours early!
(Psst – Looking for boughs to decorate your home or office? Why not make a donation and haul off some of the branches that pile up over the course of a day at the tree lot?)

Carols and concerts galore
We love to help spread the word about special services and carol events – let us know, so people can go!
One wonderful concert is happening on Saturday, December 5 at 7 p.m. – it's the annual One Voice concert at St. Clement's Church. Under leadership of music director Lynley Lewis, youth as well as adult Ismaeli choirs will be performing alongside choirs from St. Clement's Anglican and Lynn Valley United Church's community choir, Bring Your Own Voice.
Part proceeds raised by ticket sales will go to support the Regional Ecumenical Sponsorship of Refugees (REST), a group representing North Vancouver Anglican and Lutheran churches who are awaiting two soon-to-arrive refugee groups.
St. Clement's is located at 3400 Institute Road (the church with the anchor in the front yard). Tickets are $12 in advance; $15  at the door. Children under 3 are free. Ticket sales: [email protected]/778-882-5858.