**** Update coming for 2023 soon ****
You may have noticed some creepy, eerie sights appearing in Lynn Valley. Over the years a Halloween delight has been building at the corner of Dovercourt and Maginnis Avenue. From fun family tradition to frightful destination the Dovercourt Crypt is celebrating is back for 2023. Proudly partnering with the B.C. Professional Fire Fighters' Burn Fund.
---
---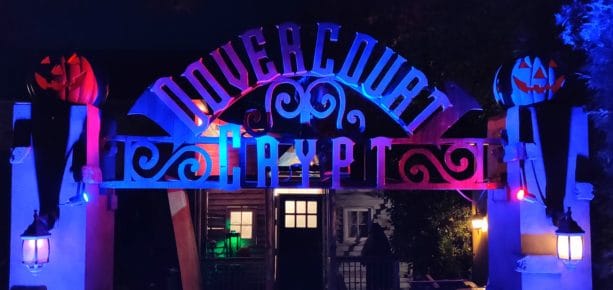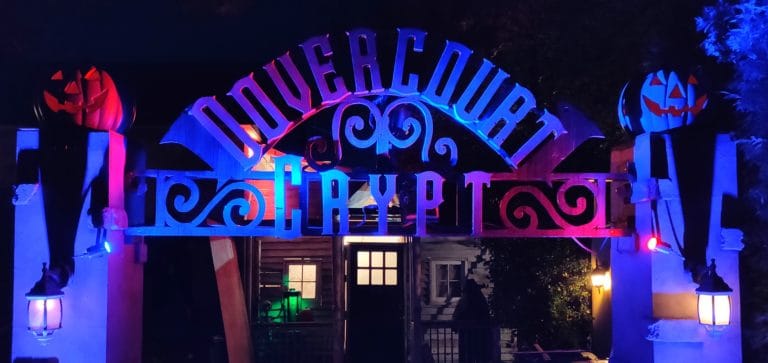 Mark Denny grew up in a house where everyone loved Halloween. The annual family display was a highlight of the year that piqued his interest as a teenager.
"He wanted to add to it," said fellow crypt keeper and girlfriend Liz Naso. "It began with a graveyard and got bigger and scarier over the years. Then a friend suggested we add a walk-through haunted house."
With the challenge accepted Denny began building on his previous graveyard display adding rooms, surprises, physical and psychological bits of terror, and finally some actors.
This year's haunted house starts slow and creepy, said Naso, with the experience ramping up as you proceed through the rooms and around the house.
"We have actors to jump out, we have pneumatic air guns and drop panels to scare people," she said. "Then we have the dreaded claustrophobia tunnel – it's too much for me, I can't go in there. We end in the blacklight room, which is still creepy but a cool, relaxing sort of experience with lots to look at – where people can think about what they've walked through and 'survived' without being scared again. But you never know, we might add a person in there this year."
There can be as many as eight actors in the haunted house waiting to scare the people who come through – all of them volunteers friends of Denny and Naso or just neighbours who love Halloween.
"We know it's no fun to know that the scares are coming," said Naso. "So there's this point when we hear a particular sound or yell – that lets us know where people are, and that we are ready to send the next people through. Ironically, Mark and I are bad at it – he can design and plan all of this but we just aren't good at scaring people."
When it comes down to Halloween they're just too busy keeping the whole project running smoothly and have chosen to leave the scaring up to those that do it best.
---
Frightful fun for more people
---
The countless hours – Denny has taken three weeks off of work this year to get it ready – and dollars it takes for such a huge project is starting to have some long-term payoff, said Naso. Previous donations collected on Halloween have funded a good supply of props and tools, so this year Dovercourt Crypt is both expanding its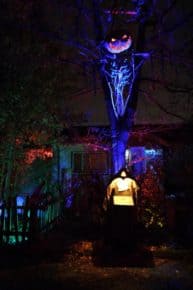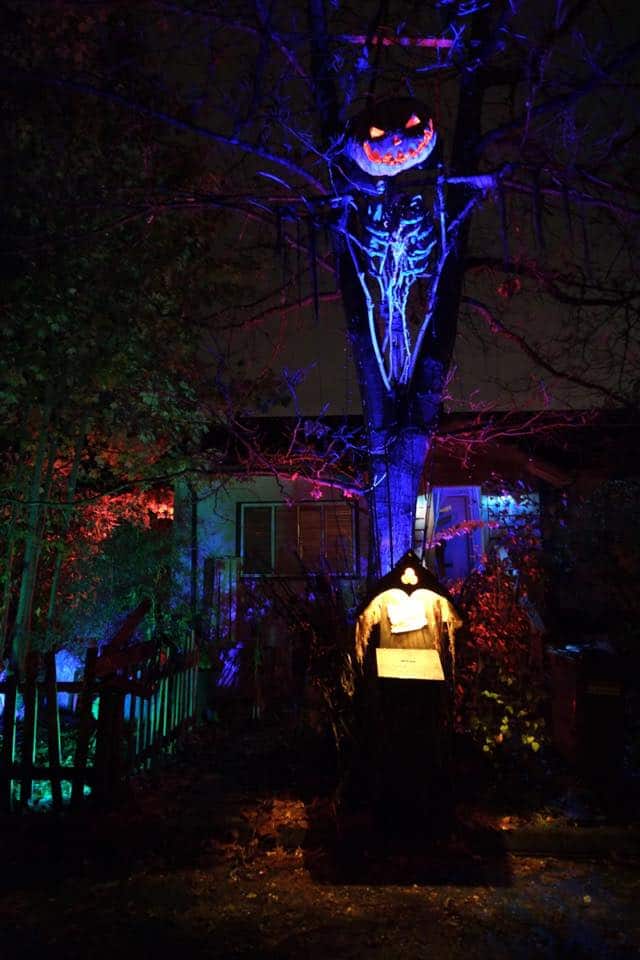 visiting days and partnering with a local charity.
"We  heard from people in the neighborhood that they would like to take younger kids through," said Naso. " So this year we're opening Monday night [6-9 p.m.] without the full scare. People will be able to walk through without the actors or airguns surprising you. There will probably be a bit more light so kids can look around without being scared."
The Dovercourt Crypt is also expanding it's other visiting hours. It is open this Oct. 28 & 29 for scare-free little hauntlings from 4-8 p.m. and on Halloween night from 6:30 to 9 p.m., with fireworks at 9:15 p.m. Nosa recommends a typical night for kids about 12 and up, whereas Monday's scare-free Hauntling Night is appropriate for younger kids who understand that it's not real.
Also new this year is the partnership between the Dovercourt Crypt and the BC Professional Firefighters Burn Fund. With Denny's investment almost in the black, it was time to find a charity to work with.
"We've always been collecting donations to help with the huge blow this makes to our wallets and to help feed our volunteers," said Naso. "Now we're in a place where we can help a good cause. We spoke with Trevor who runs The Haunt of Edgemont and he suggested we also partner with the Burn Fund. They do such great work. It's awesome that we get to help them out by doing what we love."
---
---