When a yellow helicopter flies over Lynn Valley at first light, residents know that some of their neighbours have been spending the night in some dreadful and, likely, dangerous situations trying to help someone's loved one. This month the volunteers that makeup North Shore Rescue are hitting the small screen. Coming to the Knowledge Network November 10 (on cable and online) Peg Leg Films' Search and Rescue: North Shore will share the commitment of those volunteers in a five-part series.
---
---
Peg Leg Films' most recent project is a follow-up up to their past success with outdoor films. As creators of 2018's This Mountain Life, producer, director, and cinematographer Grant Baldwin brought along fellow cinematographer Ian Christie to complete a year-long project embedded with North Shore Rescue.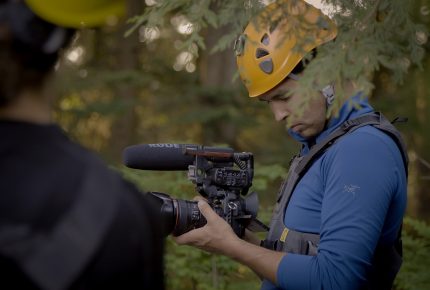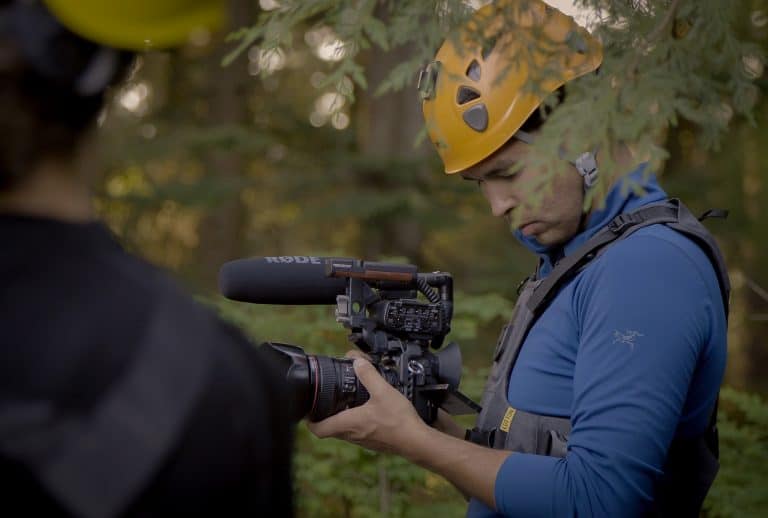 "They gave us full access," said Baldwin. "Every call we did with them. Our skills improved and we practiced alongside them." 
Just like the volunteers they were chronicling Baldwin and Christie became experts in on the fly decisions. They drew on their extensive outdoor experience and relied on each other's strengths to capture the best film.
"As the year progressed we improved our teamwork, we figured out who should go in on foot and who should stay back and fly with the helicopter," he said. "We also made some bad calls. There are some rescues with interesting stories but didn't make the cut because we didn't capture them well."
A conversation with Baldwin reveals a deep respect for the volunteers and the commitment they make to help others. 
"Whoever volunteers for the team, goes in knowing it is not an individual commitment – it's a whole family commitment," says Baldwin. "We were filming the SAR manager at home on Thanksgiving and getting ready to go on a walk to talk about that. Then a call comes in and off we go. It's hard on the people at home. The husbands and wives have to be just as committed.
"It struck me after a really long call. It was hard work, we had spent all night waiting in the bush and I was tired. I was thankful this was my job [filming]. These guys were going to head home, get dry, and head out for a full day of work."
---
---
A year spent with the North Shore Rescue team, left and lasting impact on Baldwin and Christie.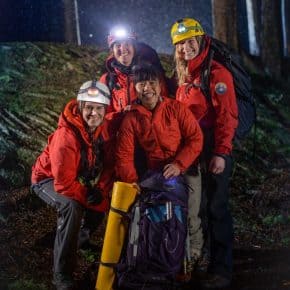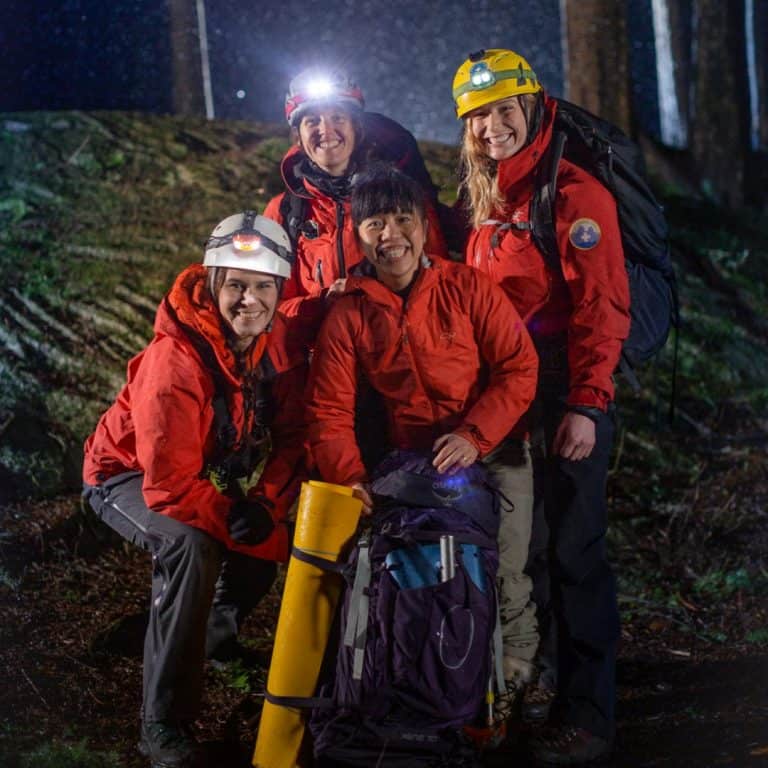 "There is so much camaraderie in the group – that is why people do this for more than 30 years," said Baldwin. "When we finished we realized how much we missed these people. You learn a lot about each other sitting in the bush waiting for sunrise, there is a lot of opportunity to talk and make connections. These are intense experiences and they support each other so well."
One very public example of this was the support of the Piggot family, said Baldwin. Jay Piggot was an ambulance paramedic and North Shore Rescue volunteer who passed away from cancer in 2017. The team organized everything from fundraisers to taking care of holiday preparations for the family. 
The two filmmakers were deeply affected by their time on the project, so much so they have officially joined as resource support to missing persons cases bringing their drone skills to the search team, said Baldwin.
---
---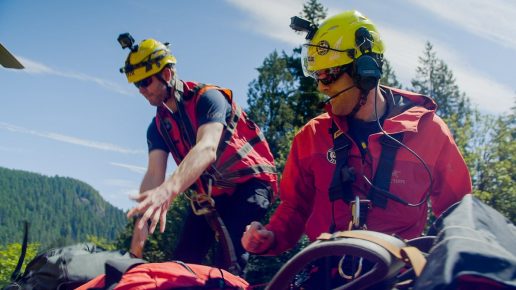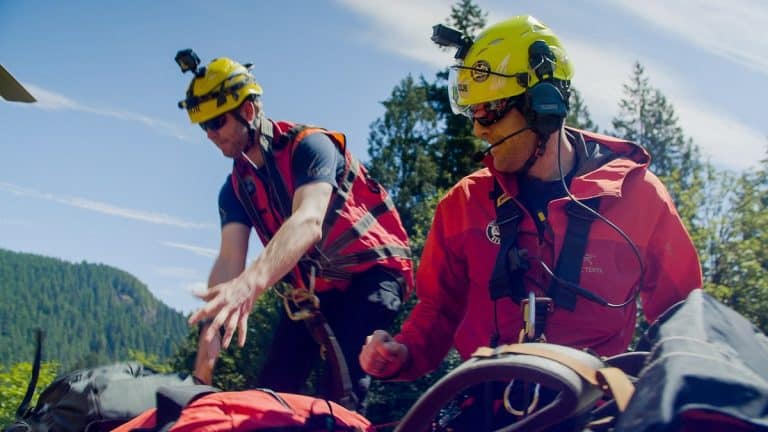 North Shore Rescue can be quite public with some of its work, but so much goes on behind the scenes, Baldwin hopes the project shares that side of the team. 
"We know the high volume of calls the team gets, those numbers would be even higher. Instead, NSR has made decisions to help mitigate those calls," said Baldwin. "They could see the escalating trend of calls on the Grouse Grind, so they organized a nightly sweep – every night two members walk down the trail to guide those stuck after dark. That simple idea reduced calls significantly."
Baldwin says he learned a lot about the people NSR gets called out to rescue.
"I think most people think it's just a bunch of stupid people in poor footwear – they roll and ankle, or fall and hit their head," said Baldwin. "But a lot of the calls could happen to anybody at any time."
Following the team for a year exposed Baldwin to difficult calls that don't make the news. 
"They deal with calls where the people don't want to come home, they don't want to be found," he said. "That is so hard. It was hardest to film the people we didn't find or who passed away. We want to show that respectfully but not shy away. That is an experience these volunteers take home. We saw that the information NSR provides families about their loved one – where they were, how their last day likely went –  was very important."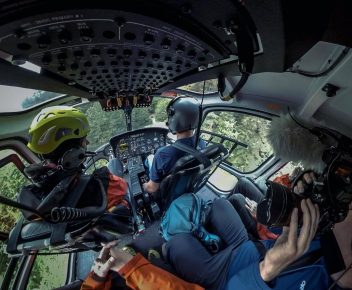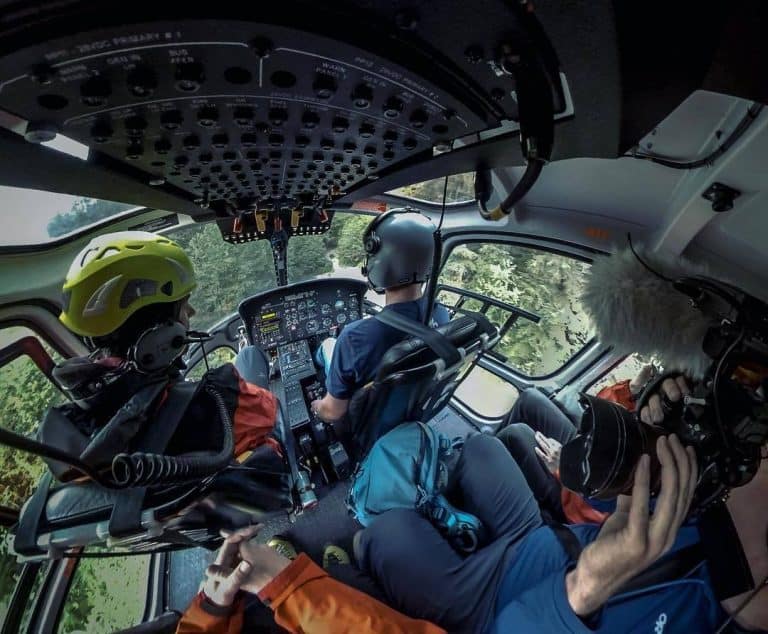 Another take away he hopes viewers leave with is a new respect for the pilots.
"Strictly speaking the helicopter pilots aren't members of NSR, but they are being trusted with their lives," said Baldwin. "The terrain is tricky back there and they are so skilled. I was amazed to see them work. We look at the mountains and see all the trees, but it's really piles of jagged, gnarly rock. 
"I hope the series doesn't scare people out of the backcountry, I hope it shows the beauty of the place and the people that work there and that will inspire people to enjoy it."
Search and Rescue: North Shore debuts Nov. 10th on Knowledge Network at 9 p.m. and can also be streamed online. Peg Leg Films next project returns again to the mountains – this time inside. They are currently documenting a project on caving.