Five decades ago a very special flower blossomed above Lynn Canyon. Next month the Lynn Canyon Ecology Centre will be celebrating its 50th anniversary of education and outreach for local kids, families, and visitors to our community.  Join the festivities starting October 2. 
---
---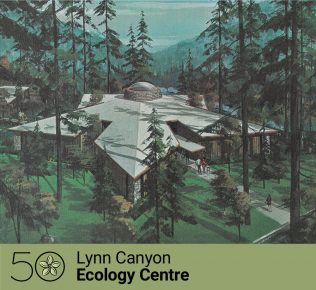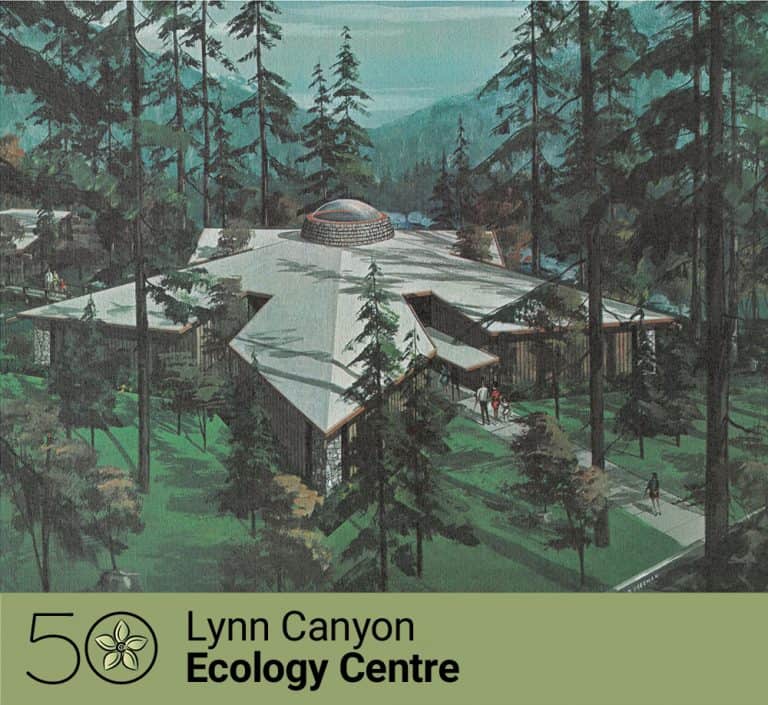 As British Columbia looked to mark its centennial in 1971, the government offered grants for community projects and celebrations. The District of North Vancouver was feeling ambitious and proposed one of the largest projects in BC: an Ecology Centre at Lynn Canyon, said Isobel Rennie, graphics and display technician for the centre. 
"The Ecology Centre was the first nature centre in an urban environment. It was built in the shape of a dogwood flower – BC's provincial flower – to mark the centennial," she said. "People were just getting into understanding how humans affect the earth. Going through old displays in the back cupboards there was a good vision of what is important and most show issues we still talk about today." 
It is one of the lasting legacies left by former District of North Vancouver Parks Manager, from 1959-1993, Dirk Oostindie (1928-2019). His forward thinking was transformational for the district, bringing us Maplewood Farms, the Baden Powell Trail, improving (disability) access to parks, creating Canada's first public skate bowl at Seylynn and leaving generations of families with the Ecology Centre. 
"He grew up in Amsterdam during the war years," said Nellie Oostindie, Dirk's widow. "He didn't have much in the way of school for many years. We didn't have books, we didn't have paper. But there were other ways and he would go to nature houses and learn there. It left an impression on him. He thought we could use one in Lynn Valley." 
With many Centennial project options, it was good timing some trees needed to be cleared for a rain runoff culvert in Lynn Canyon Park. The new piece of infrastructure left the perfect empty spot for Dirk's vision, said Oostindie. 
The opening exhibits – housed in each of the five dogwood petals,  discussed land use, she said, displaying a polluted, devastated forest, a pristine forest, a forest – like Lynn Valley was at the time – impacted by humans, an exhibit on garbage and a theatre. The grand opening, and a subsequent Cub Scout visit, left a lasting impression on Nellie and Dirk's son, seven years old at the time – especially the resident live raccoon.
"I am surprised that he remembers that after 50 years," said Oostindie, adding that last week as they reminisced together he could recall the film he watched and describe the raccoon den in detail. Decades later the Ecology Centre continues to educate and delight visitors.
"There are always families who don't dare go across the bridge and this was something they could do," she said. "And on rainy days people would go inside. People who plan to go have a background in knowing about ecology but on rainy days, you catch the people who don't plan to and learn something." 
The Ecology Centre was just one project of countless others, Dirk spearheaded to make the DNV more livable for its growing community. Oostindie reflects Dirk was quite pragmatic about the changes he brought to the North Shore. 
"He said 'That's my job, I am paid for it – and I love my job. He felt it was his duty to do it."
---
---
Most locals have explored the petals of the Ecology Centre at some point. It remains one of the most accessible attractions in Metro Vancouver.  The staff adapted and innovated early in the pandemic creating online programs attracting participants from around the world. 
"It is a place where kids on the North Shore come as they grow up or as part of school and sparks interest in the environment and teaches them they have a role in caring for the environment," said Rennie. "I think it's a really accessible place, if teachers want to bring their classes it is subsidized, entrance is by donation for our visitors and our weekend programs are very affordable."
In a typical year, 88,000 people visit the centre each year. Many of the guests are international or from other parts of Canada.  Over the years that is more than 3.3 million visitors from 70+ countries. 
"For people who are coming to Lynn Canyon Park and didn't grow up here it is a place to learn who to explore, how to be safe and respectful of the animals and forests," she said.
Centre staff encounter guests who are unfamiliar with forests and hesitate – often with concerns about bears.  
"Most come here not knowing the forest has been logged before, viewing the trees as large, ancient and old," said Rennie. "When they get a chance to learn about the canyon's past through the displays and learn its a very different place than it was 100 years ago, it gives a better understanding of the environment today."
The centre's pandemic pivot brought Lynn Valley ecology education into homes here and abroad. The centre now gets frequent participants from the US, UK and regularly teaches a class to students in Japan, said Rennie. It has also led to innovation that will enhance local programming. 
"We have a new underwater camera we hope to offer virtual underwater discovery soon."
---
Celebrating a golden anniversary
---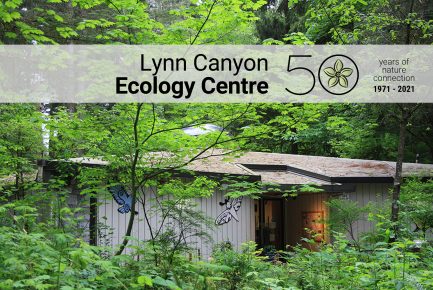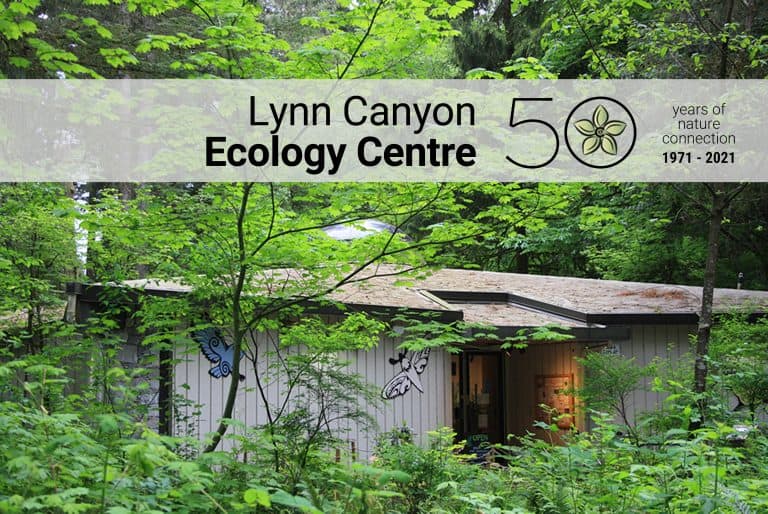 Join the Ecology Centre Saturday, Oct. 2 – exactly 50 years from opening day: 
12 – 4 pm

Nature groups will join the centre inside and out, such as North Shore Black Bear Society, the Wild Bird Trust (Maplewood Flats), the Invasive Species Council of BC, Furbearers, Streamkeepers,  DNV Trail and Habitat, DNV Rangers and others.

With covid procedures, visitors can walk through the centre and check out vintage film reels plus there will be crafts for kids, a colouring contest and an outdoor scavenger hunt to take-away.

Help create a memory wall where people can share their Ecology Centre memories.
Week-long events Oct. 2 – 8: 
Guided nature walks

Displays at the café mezzanine from Walter Draycott's collection

Crafts, colouring contest and outdoor scavenger hunt. 
To stay up to date on events visit their website, follow on social media or sign up for the centre's newsletter (at the bottom of the home page).