Updated September 25, 2013: Please scroll down for a post-event thank-you letter from the organizer!
Did you know that composer Frederic Chopin, two-time Nobel prizewinner Marie Skłodowska-Curie, and the astronomer Nicolaus Copernicus were all Polish-born?
Well, they were. And if you'd like to experience the sights and sounds of their birthplace, you can visit a fun-filled Polish Cultural Festival being held at Lynn Valley Village on Sunday, September 8 from 1:30 to 6:30 p.m.
The event is a first-of-its-kind for the North Shore, and will feature an extensive Polish food menu, the Polonez Polish Folk Arts Ensemble from Edmonton, a puppet show and a variety of soloists and musical groups.
We're fortunate to be getting a unique event like this in Lynn Valley, and it's largely thanks to the recent move of the North Shore Polish Association president from West Vancouver to our neighbourhood. For the past 10 years, Urszula Sulinska and other volunteers have promoted Polish culture and fellowship through concerts at Kay Meek and Centennial Theatre, art exhibitions, participation in the West Vancouver Community Day and Dundarave Christmas tree display, high school essay contests, and a variety of other activities. But the upcoming festival is something new.
"We noticed that there are a lot of different festivals in Vancouver: Italian, Greek, and – here on the North Shore – Caribbean, Filipino, and Iranian. This encouraged us to organize our own," said Urszula. There is an exciting slate of performances planned, and food that includes sausages, pierogies and more.
The festival is happening just after the back-to-school rush, so mark it on your calendars now so you don't forget it's happening! You can learn more about the North Shore Polish Association on their website, here.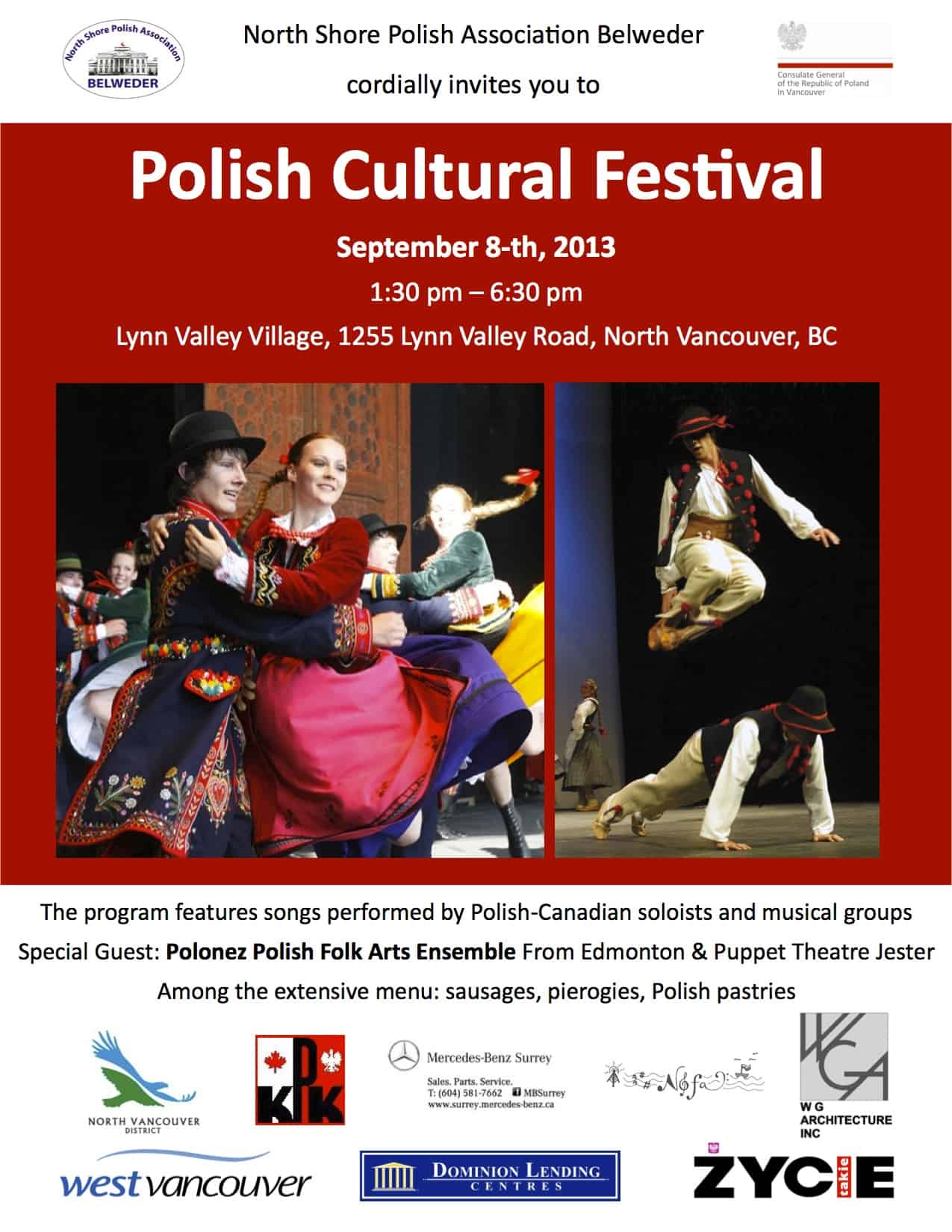 UPDATE: September 25, 2013
A thank you from the organizer…
On the sunny afternoon of September 8,  our community gathered at Lynn Valley Village to celebrate the First Polish Cultural Festival – a day of Polish music, dance and food.
This event, organized under the patronage and sponsorship of the Polish Consulate General in Vancouver, would not have been possible without the generosity of our sponsors, the help of many volunteers, and the performances of talented artists.
First of all, I would like to thank the Consul General of Poland Mr. Krzysztof Czapla, who has supported us from the moment we decided to organize this festival.
Coordination of an event like this was not an easy task, and it required a lot of effort and commitment. That is why I would like to thank a few people with whom I cooperated closely, and who made it a memorable and pleasant experience.
Among them were Lenia Calico, the real estate coordinator, North Vancouver District, who went out of her way to accommodate our every need, Dave Alexander, the store manager of Save-on-Foods in Lynn Valley Centre, and  Rory Barlow, the owner of Booster Juice-Lynn Valley & SFU.
A big thank you also goes to our most generous sponsors and lottery donors:
Sponsors:
DISTRICT OF WEST VANCOUVER
NORTH VANCOUVER DISTRICT
MERCEDES-BENZ SURREY
DOMINION LENDING CENTRES
POLISH CANADIAN CONGRESS
Lottery donors:
SAVE ON FOODS – Lynn Valley Centre
MAPLE LEAF GARDEN CENTRE – LYNN VALLEY ROAD
POLISH CANADIAN WOMEN'S FEDERATION – branch # 4
ANTONS' PASTA BAR, BURNABY, B.C.
HEIKE'S HAIRLEGUIN,HAIR STUDIO – 3016 Mountain Hwy, Lynn Valley
I would like to thank all volunteers and especially the youth: Kyla Drzazgowski, Angelica Drzazgowski, Alexandra Wesolowski, Vanessa Hercun, Karol Romanowski, Robin Borawski, Krzysztof Izdebski, Kevin Saffarzadegan, Maciej Nowakowski and all the members of the North Shore Polish Association Belweder.
We are looking forward to hosting future events like ours that bring community together and enrich our summer days.
Sincerely,
Urszula Sulinska,
President
North Shore Polish
Association Belweder
[email protected]