Just when you thought one family couldn't possibly house any more artistic talent, Joel Grinke shows up to prove you wrong.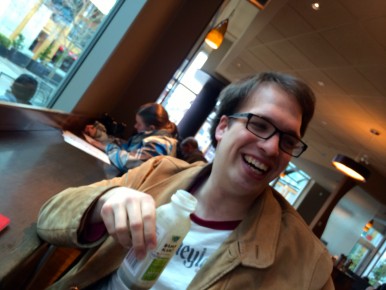 Joel is older brother to Matt Grinke, the uber-talented pianist whose off-the-cuff accompaniment to Friday Night Live's hilarious improv has the cast performing their scenes in genres that range from Shakespearean madrigals to Gilbert-and-Sullivan inspired choruses.
Joel is also the actor who will be stepping into the shoes of Alan Marriott, FNL coordinator, when Alan is off in England to teach theatre improv for the month of April. (For a tongue-in-cheek dramatization of Alan's reluctant handing over of the FNL reins, check out this YouTube video!)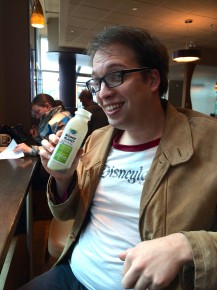 Joel and his varied creative team will bring a new look and feel to the show for the four weeks they have the run of the stage. The Studio 58 grad describes it as "Johnny Carson meets the Muppet Show" (referring to the anticipated on-stage appearance of a giant fish for one of the acts). As is usual for Friday Night Live shows, a different guest artist will be featured each night, but unlike Ad Libretto's audience-inspired improv antics, the April Creative Team is doing more of its writing in advance, and promises some interesting storylines ahead.
Upcoming guests are Dave Morris on April 4, an "improvising legend" in his own right, musician and actor Jeff Gladstone on the 11th, and Colin Easton – who is spending one year meeting a new random person every day and posting their story on Facebook as part of The Stranger Project 2014 – on April 18.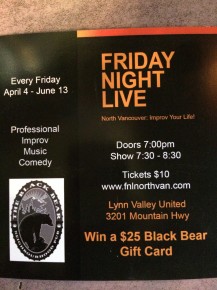 Another highlight to look forward to in April is a new partnership with the Black Bear Neighbourhood Pub. Starting April 4, each week one FNL audience member will win a $25 gift certificate – so who knows, you might come for the entertainment and walk out with post-show pub fare as well!
Friday Night Live opens its doors at 7 p.m. at Lynn Valley United Church, with the show beginning at 7:30 p.m. Complimentary refreshments come along with your $10 ticket (kids 12 and under are free, family max is $25). For more info, visit www.fnlnorthvan.com, or find them on twitter @fnlnorthvan, or on their Facebook page.