The return of music and family fun to Lynn Valley Village is going strong. On the schedule are games, bands and Bollywood. 
---
Wednesdays: celebrating community diversity
---
Evenings at Lynn Valley Village have a lot to offer this month. From classics to dance lessons. There will be a variety of sounds and styles to get families moving from 6-8 pm.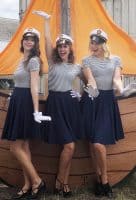 August 10: The vintage fabulous trio Beauty Shop Dolls will fill the plaza with harmonies while kids can take advantage of the craft table. . Performing classics from the roaring 1920s Great Gatsby era, the swinging 1940s dance halls, and boppin' 1950s radio hits, these dolls know how to woo any crowd into an old fashioned love affair. The perfect blend of lush vocals, gorgeous retro costumes, and classic dance choreography, Beauty Shop Dolls leave anyone with a sweet tooth for musical delight well satisfied. 
August 17: Bollywood dance expert Rohan D'Silva will be offering a lesson to get Lynn Valley on board with one of Canada's fastest growing dance styles. There will also be music from the Mark James Fortin Band to round out the evening. Lead by local teach Mark James Fortin, the band has been described as raw, powerful, and dynamic. Mark's wide appeal is based on skill, talent and an uncompromising desire to offer music with heart. This vibrant band has been seen performing all over the North Shore. Plus, crafts for the kids.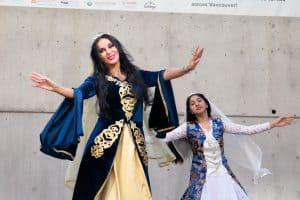 August 24: It's another night of Bollywood dancing with Rohan D'Silva and a chance to learn Mediterranean dancing with Pooneah Alizadeh. Alizadeh is the award-winning artistic director of the Academy of Middle Eastern Dance. The artistic direction of her academy is based on a fusion of Middle Eastern dance, folkloric dances and ballet influences — including belly dance. With more than 18 years of teaching experience in Canada, she is bound to get you moving. And, of course, crafts! 
---
Sundays: bigs bands and brass
---
These high-energy shows from 1-3 pm, Sundays, are redefining what you think of when you hear "brass" band. These are not retro-parade marching bands but eclectic, dynamic groups to get you moving.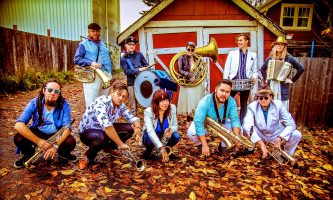 August 7: Filipinx-Canadian multi-instrumentalist and loop artist, Alex Meher's performances showcase his musical instincts. The solo artist builds songs layer by layer as he performs percussion, electric guitar, soulful vocals, keys, synth, SPDS drum pad and alto sax. With lush layers, complex harmonies, and a driving rhythm, his music will make the crowd move. 
August 14: Inspired by Eastern-European roots, via East Vancouver's Balkan Schmalkan is a dancy party orchestra. Their funky brass dance beats are rooted in the living aural traditions of the Roma and Klezmorim of Eastern Europe and blended with a mixture of pop, funk, and jazz. Members of the group sing in 6 languages including Serbian, Romani, and Italian.