With the recent (on and off!) spate of sunny weather, Lynn Valley green thumbs are itchy to get out into their gardens.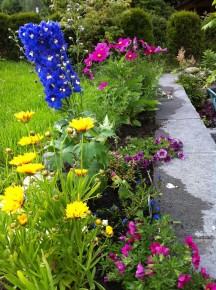 It's too early to get annuals out, but we have a great list of gardening tasks that can (and should!) be tackled right now, thanks to our friends at Endless Summer Landscaping. Have a look, then roll up your sleeves!
With  flowering spring bulbs cheering the gardens and roadways, inspiration is everywhere you look – and who doesn't love cherry blossom season? You can learn more about our many local cultivars and where to see them, and the Vancouver Cherry Blossom Festival, by reading this super article by Michael McCarthy over at our sister site, LonsdaleLife.
After your garden is in shape for the spring and summer, you can reward yourself with a trip to a local plant sale. The Lynn Valley Garden Club annual plant sale is always a popular pick, and takes place this year on Saturday May 7, from 10 a.m. to 1 p.m. at St. Clement's Church, 3400 Institute Road, on the east side of Lynn Valley Park.
You will be able to choose plants for sun, shade, and container gardening, as well as herbs and veggies. Plants are grown by members in their own gardens, so are proven to be "tried and true" for the North Shore! Proceeds go to local community and charitable gardening projects. The club will only be equipped for cash-only sales, so please arrive prepared! For more information, email [email protected] or visit the club website. (And p.s. – did you know the Lynn Valley Garden Club has been part of our community since 1943? In fact it's been such a popular group that at times there is a waiting list for membership!)
We hope Mother Nature cooperates with local gardeners this year! If your hard work pays off and you would like to share some photos of your garden, please send them our way! We'd love to use them on our site or put them out on our Facebook page!