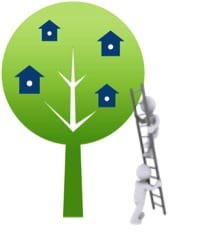 We are collecting nominations for Lynn Valley's Good Neighbour Award until Dec. 19, 2012. We'd love to hear, and share, stories about good-hearted folks who have gone out of their way to help you or their community, in ways large or small.  Nominees don't have to be your 'next-door' neighbour, just a fellow citizen of the Valley.
This contest isn't about deciding who's 'best' – it's about celebrating all those kindnesses that we know happen in our neighbourhood every day of the year. The winner of this year's Good Neighbour prize package will be drawn at random, and announced on Dec. 23. Please send your submissions to [email protected]
CHRIS TRENDELL NOMINATES JIM WRIGHT:
"He was one of the very early settlers in Lynn Valley; one of World War II's returning vets. It was a time when there was no shopping mall, just a few scattered shops and a goose farm not far from where he still lives on Coleman Street.
Although he asked for little help from those around him, he gave abundantly to anyone who came to his door. (And, after we built our own home across the street in 1965, we knocked on that door often! He was always there to lend a hand, or invite us in to watch the football game, election returns, or moon landing with him on the TV by the fireplace.)
James, Jimmy, Chick or Mr. Wrightman as he was called, depending on your relationship with him, is gifted with the ability to "fix it." His workshop was a mystery to all who entered. The tools were cleaned, polished and in place. Although the tools looked new, they had by and large been passed on to him by his father who had brought them from England.  
During the winter, he would be seen and heard on his small Sears ride-on tractor, clearing the sidewalks of snow in front of Upper Lynn School and for many blocks around.
You don't see Mr. Wright around much at public events or large gatherings, but I think he is well-known by many people for his repeated acts of kindness over his many decades in Lynn Valley."