We are collecting nominations for Lynn Valley's Good Neighbour Award until Dec. 19, 2012. We'd love to hear, and share, stories about good-hearted folks who have gone out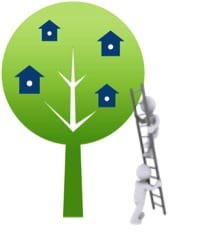 of their way to help you or their community, in ways large or small.  Nominees don't have to be your 'next-door' neighbour, just a fellow citizen of the Valley.
This contest isn't about deciding who's 'best' – it's about celebrating all those kindnesses that we know happen in our neighbourhood every day of the year. The winner of this year's Good Neighbour prize package will be drawn at random, and announced on Dec. 23. Please send your submissions to [email protected]
CHRISTINE GOOCH NOMINATES HUSBAND WAYNE:
"I would like to nominate my husband, Wayne Gooch. 
Wayne is outside more than he is inside.  He continually helps our neighbours, whether it's to put up some siding on their home, de-thach their lawns, give them a Christmas tree or to simply lend an ear. 
Wayne has a heart of gold and funnily enough…he doesn't realize it.  It just comes naturally to him. 
He is such a humble man and I am so very proud to call him my husband."