BY YOLANDE MARTINELLO, Principal of Fine Arts, School District 44: Many people in Lynn Valley will be celebrating the opening of the Gordon Smith Gallery of Canadian Art this fall, and we are hoping many of them will also volunteer to be part of its success.
Currently under construction at 21st and Lonsdale, the gallery will be the only one in the country dedicated solely to young people. It will house the Artists for Kids programs and the acclaimed Artists for Kids Collection of Canadian Art, now located at the Lucas Centre.
Lynn Valley has been a critical part of Artists for Kids (AFK) since its inception more than 20 years ago. Long-time Lynn Valley resident and artist Molly Lamb Boback is one of our esteemed patrons, and Lynn Valley Elementary students have long had the privilege of participating in our gallery program.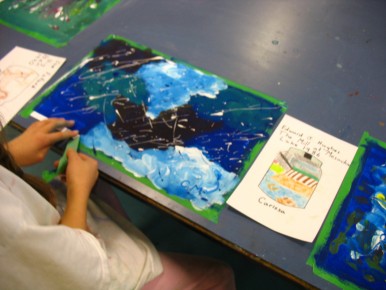 In addition, one of their treasured teachers and an Artists for Kids team member, Catherine Schechter, has brought Order of the Owl projects (highlighting the work of an AFK artist), enrichment opportunities, and her vast knowledge of our collection to the Lynn Valley community.
If you have a little bit of time, or a lot, and value art education and the importance of Canadian culture in our community, we want to welcome you to our team.
We are actively seeking volunteers with art education experience, and those who simply love art or contributing to their community. We need support for positions as varied as Mail-out Support and Docents, Clerical Support and Event Planners, Writers and Photographers, and Sponsor Support.
To learn more about our new community asset and the ways Lynn Valley citizens can continue to support this wonderful program, please attend our volunteer information evening.
Date: Wednesday, February 22, 2012
Time: 7pm – 9pm
Place: Artists for Kids Gallery
Address: 810 West 21st Street, North Vancouver
We look forward to seeing you there.
If you are interested in volunteer opportunities, but cannot join us at the information evening, please contact Brenda Irving at [email protected] or call us at (604) 903-3797. Please visit our website to learn more about our programs.