LIFE WITH LYNN O'MALLEY: If it seems like our website has been publishing a lot of news coming out of Lynn Valley United Church lately, there's a good reason for it – there IS a lot of news coming out of Lynn Valley United Church lately!
That's thanks in large part to the relatively recent hiring of a new Children, Youth, and Families minister, whose job it is to support both the United Church faithful as well as their neighbours throughout the wider community.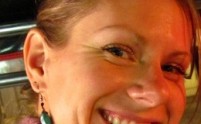 Christina Kinch is nothing if not energetic. This rock climber, hiking aficionado, and multi-certified yoga teacher is offering a free yoga class for girls in Grades 5 to 10, yoga by donation to all teens and adults of variable bendiness levels, free counselling to parents and families, and holistic healing sessions for children and youth – to name just a few of her neighbourhood outreach endeavours.
Christina brings to her post some pretty impressive credentials. Having graduated from UVic with a Bachelor's degree in Child and Youth Care in 2007, she has put her skills to use in a variety of areas. She's worked in child protection and youth psychiatric assessment. She's given hands-on help to young folk with mental health issues or learning disabilities, and to pregnant moms struggling with addictions at B.C. Women's Hospital.
While she doesn't have formal clerical training, Christina grew up in the United Church in Summerland and worked summers at Naramata, the church's retreat and conference centre in the Okanagan.
Over the next months, Christina is looking forward to finding out how to best support the families of Lynn Valley. "I want to offer relevant assistance, and not re-invent the wheel," she said over a recent tea in Delany's. "People will connect in where it is nourishing."
Getting out into the community is a value shared by her colleague, LVUC minister Blair Odney (whose top-notch singing, described as 'Lounge meets United Church' we enjoyed at a recent Friday Night Live event!) Blair hosts a wide-ranging "Coffee and Questions" group at Waves on Thursdays at 3:30, to which anyone is welcome.
Christina has also started a new youth group for kids in Grades 7 to 9 (from 6 to 8 p.m. on the 2nd and 4th Sundays of the month), and is contemplating working with volunteers to launch a homework club that will give kids a place to focus on their work and get help if they run up against something that has them stumped.
Christina and her community-minded congregation are devoting a great deal of energy to these neighbourhood programs, and for that LynnValleyLife gives them a big tip of the hat. Whatever your faith is, or isn't, I know you'll find a welcome any time you want to poke your head in the door.