When Kelsey Toevs was walking the halls of Argyle Secondary, snowboarding down Grouse or pointing her handycam up to Fromme she never imagined she would level up her passion to travel the world filming for action sports icons Red Bull.
---
---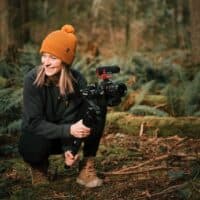 This summer in the late evening light Toevs watched in awe as her short film "Ready or Not" hit the big screen at Whistler's epic mountain bike festival Crankworx. A short time later family and friends were screaming and a dumbstruck Toevs was making her way to the stage as the evening's big winner. 
"It's surreal," she said from her Lynn Valley home. "I have never won anything. I was not even thinking it was possible. The goal was to watch something I made on the big screen – so I could say I got to show something at Crankworx."
The festival knew Toevs was ready for the big stage even if she did not. Originally asked to participate in its photography competition, Toevs couldn't make it work with her schedule so she took a chance and asked if there was a spot in the video competition. Not only was there space but the festival had already planned on asking her. 
"It's a huge platform for videographers. In just a few months it has brought so many opportunities," she said.
During the festival she was asked to be a second shooter for the women's Red Bull Joyride – she said yes. After her big win she got a text message from action filmmakers Anthill Films and asked to join them earlier this fall in Switzerland working on a Red Bull production – Toevs screamed. "It's insane."
---
---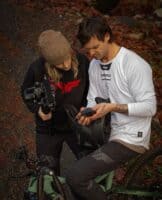 The first camera that mattered to Toevs came into her hands for a high school photography class. A family connection helped her get a decent camera to start off on the right foot and Toevs did what most teenagers do. Give it a go but she didn't think too much about it. 
"When I think back, I definitely thought it would have been cool to film snowboard videos," she said. "But I also thought that wasn't a job."
The camera became a bit of a constant companion as she explored jobs, possible careers and tried to figure out how to pay some bills. 
"I ended up going to Cap U for tourism and recreation," said Toevs. "I did everything from lifeguarding to day camps to construction."
In 2014 she was bringing the camera along on adventures she and, her now husband, Steve Vanderhoek were tackling in their free time. Often, that was Toevs tagging along as Vanderhoek hit local mountain bike trails. 
"I wasn't into dirt jumping but I would tag along with my camera," she said. "It was a lot of fun."
Toevs began to think there might be a future in photography. That passion had remained steady but not focused until she connected it to her interest in architecture and real estate. 
"Once I realized that architectural photography could be a career, I knew I wanted that to be my business," she said.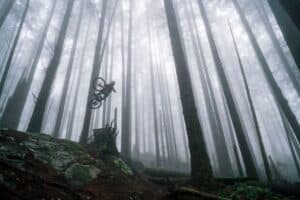 Her skills grew and, more importantly, her gear list grew. At the same time, Vanderhoek was hitting the trails, building connections and making a name for himself in mountain biking. 
"When the pandemic hit there was a lot of demand in real estate for video so I got quite a bit of equipment," she said. 
Vanderhoek and Toevs were still spending their free time in the forests of the North Shore.
"I started playing around with Steve on Instagram and it began to be noticed because it was such high quality. I didn't know anyone in mountain biking but people began to ask Steve who was shooting his stuff and asking for his recommendations."
It's a partnership that has allowed both Toevs and Vanderhoek to excel – he now has professional riding contracts and she is an award-winning filmmaker. 
---
---
It has been more than a decade of overnight success for Toevs.
"It's [action sports filming] has always been for fun," she said. "I could take risks and try things. Steve and I would come up with some crazy ideas and we could give it a go because we had the stability of our other careers. He comes up with a film in his mind and I go out and learn how to do it."
That strong partnership helped Toevs feel confident to tackle this summer's 'Ready or Not.'
"It was big, if it worked out we wanted to be able to say that just the two of us did that," she said. "We work well together. I love what I do and he loves to do what he does. We are kind of each other's managers. I helped him gain some exposure, he's helped me with contacts and contracts. We will do it until we aren't having fun – for now, we are keeping it going."
The pair is preparing for another large-scale shoot in 2024, adding an additional layer by documenting the project to give insight into how they work together.
"My mom's still a bit surprised I am getting paid to film bikes," laughed Toevs. "'Yes, mom, in Switzerland. Yes, mom, I will be paid.' I like to prove people wrong."