Looking for some good news to warm a cold day? LynnValleyLife recently received this lovely press release from the North Vancouver RCMP, about a neighbourly initiative launched by Cst. Randy Wong and his wife, Sahar. Using money donated by Randy's RCMP colleagues, the couple have been creating care packages for the men and women the constable encounters over the course of his days and nights on the streets of North Vancouver. The ziplock bags contain warm mitts, toques, socks, disposable rain ponchos, energy bars and other essential supplies for those whose lives are spent largely without shelter.
We knew many people in Lynn Valley would love to support this effort, and asked Randy if we could put the call out for the needed items and use our LynnValleyLife office (3171 Mountain Highway) as a drop-off point. He was delighted to hear from us, and said that Sahar is "extremely excited" at the prospect of Lynn Valleyites lending a hand.
Randy sent us the story behind a photo he took with the permission of these care package recipients:
A few weeks ago we provided one of these packages to a homeless male living on the streets. He hangs out at the bottle depot on Brooksbank. When he heard there were socks in the package he almost cried and thanked us for them. His name is Al and he's in the wheelchair in the photo below. The female and the other two males wanted to remain anonymous. She was from the DTES (Downtown East Side) and trying to get away from her ex-boyfriend who has a court order to stay away from her. She, too, lives on the streets and was overcome by emotions knowing someone actually cares. The gentleman to my right who is in his 50s said this package (especially gloves) comes at the perfect time. He is wearing the gloves in the photo, as well is the female. The male to the right was extremely thankful and kept praising us for reaching out to them.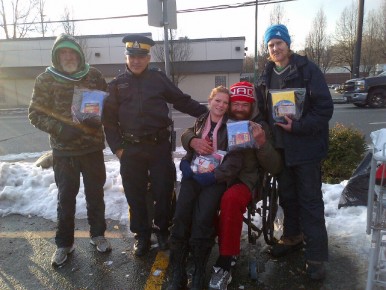 This year Sahar began to notice more homeless women on the streets, and so they also make packs for women with toiletries specific to their needs. Randy and Sahar do their best to get the packages into the hands of those who need them, whether it is through distributing them to people they meet in their work or personal rounds, or by supplying what they can to North Van's Lookout Shelter. He says "We hope to get a couple of men's and women's packages into each provincial ambulance and firetruck. Many medical first responders come in contact with the homeless and this provides an opportunity to provide a package to someone living in the elements."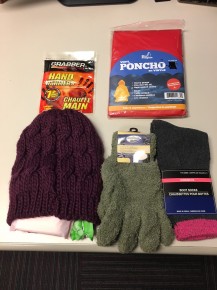 Randy and Sahar are truly grateful for any support they receive in their endeavour. "Today a gentleman attended the North Vancouver detachment and had purchased socks, touques, gloves, hand warmers, ziploc bags and Reeses peanut butter cups [that he] dropped  off…. I was overcome with joy and could barely contain my enthusiasm. I have already added the Reeses to existing packages."
Lynn Valley, we know you'll want to pitch in, and we want to make it easy for you to do so by collecting your items at our office. Randy and Sahar welcome your donations of warm toques, gloves and socks, as well as rain ponchos,  disposable hand warmers, and ziplock bags (at least 10″ x 11″ large). New, travel-sized toiletries are useful, as are small foodstuffs such as energy bars or tea and coffee packets. Randy says that moving and storage blankets are warm and very durable, and that he and his wife will be happy to launder any that are donated to the cause.
It's going to be a cold week, so the sooner we can get these supplies to Randy and Sahar, the better. Please drop off your donations to the LynnValleyLife office at 3171 Mountain Hwy from 9 am to 5 pm Monday through Friday, or email [email protected] for an alternate drop-off point if our office hours prove difficult.  Thank you in advance for your support of Randy and Sahar's compassionate initiative, and know that your contributions are going directly to our neighbours in need.