By staff writer
The Dos Santos family has been selling meats and seafood at Lynn Valley Mall for 15 years now. There's a reason for their popularity. "It's all about the customers," says Mike dos Santos, wrapping a bag of pork chops for a customer and handing it over. "We always listen to what the customers have to say and are attentive to their questions and requests. If somebody wants a special item, we get it for them."
The other key element to their longevity comes as a bit of a surprise. Evidently there are a lot of "foodies" in Lynn Valley, who are very particular about what they order, and when. Fresh and local are two other key pieces to the puzzle. Seasonal might be another.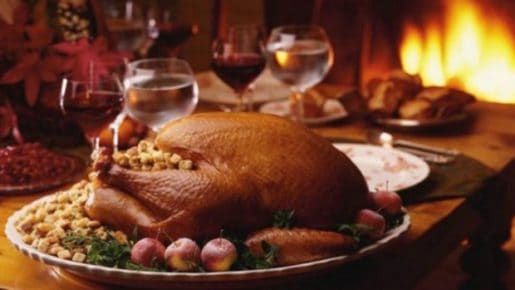 It's traditional at Thanksgiving to gather the clan together and enjoy a turkey dinner. But what about Christmas? Mike has some suggestions for you. First of all, what about pre-Christmas parties? They offer fresh fish,  smoked salmon, spring rolls, meatballs, wings, anything you need for party platters. The final secret to their success is custom cutting, like custom-cut pork crown roast available on pre-order.
Local suppliers are important. Westlynn's Premium Canadian Spring Creek Beef is raised without antibiotics or added hormones. Maple Hill Farms is a family-operated business located in the small farming community of Mt. Lehman in the central Fraser Valley. The Regehr family has been involved in the poultry industry for over 30 years. Maple Hill chickens are raised medication free, given plenty of natural light and room to move freely. They are fed vegetable-based rations which contain no growth hormones, and are 100 percent free of animal by-products.
Since 1912 the Donaldson family has been farming in the beautiful Bradner Community nestled in the Fraser Valley. In 1999 Bradner Farms became the first certified organic fluid milk producer in Western Canada. The milk is distributed by Salt Spring Dairy under the Avalon and Valley Pride brand names. Bradner Farms also produces certified organic eggs and chicken.
Turkeys raised under the J.D. Farms specialty turkey certification are fed a natural diet of grain, vitamins and minerals without any antibiotics or animal byproducts. Pork? The Sunderlands grow more than 75 percent of their feed requirements on their own Paradise Valley farm. "We have a lot of adventurous customers here in Lynn Valley," says Mike, wrapping yet another order. "They like to try new things. We are always happy to listen to what the customer wants." To pre-order any custom cut meats, phone Westlynn Meats at 604-988-7644.
(Psst! Right across the mall from Westlynn Meats you may notice a sign for oranges at Kin's Farm market. They have special Korean mandarin oranges in stock as a Christmas treat!)