By staff writer
If you saw a team of people strolling through the woods wearing muddy boots and toting hockey sticks on a rainy Saturday afternoon in the fall, you might think: "Yes, it's hockey night in Canada, but these folks have gone too far." The North Shore Streamkeepers (NSSK) are true Canadians, but they aren't playing street hockey on the pond. They are cleaning the creek and looking for signs of coho salmon, all the way up to the pond. Donovan's Pond, that is.
Hastings Creek is one of the six tributaries of Lynn Creek. Considered one of the most important small fish-bearing streams in North Vancouver, Hastings originates on the east slope of Grouse Mountain and flows through Princess Park, Hunter Park, the Lynn Valley commercial area, and various residential areas until it joins Lynn Creek in the Arbour Lynn area.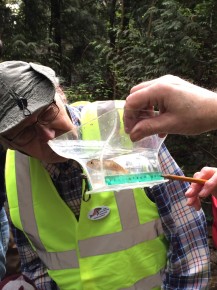 Its s status is listed as endangered due to riparian removal, urbanization, culverting and degraded water quality. Significant problems were caused by urban development, such as contaminated stormwater being discharged directly into the creek, spills into storm drains, impervious surfaces built near the banks and loss of riparian vegetation.  It total, 29 storm drains discharge into Hastings Creek. However, over the past decade or so, dedicated Streamkeeper volunteers have done their best to revive the creek and bring back native salmon. Their work is reflected by the fact that chum can be seen in the lower reaches near Lynn Creek and that coho make it all the way up to Donovan's Pond in Hunter Park.
Problems actually began back in the 1870s when the Wood-Spicer Cedar Company built a pond in Princess Park to store cedar shingles and transport shingles to its mill in Lynn Valley via Hastings Creek. A dam at their main collection pond at Lynn Valley Road and Mountain Highway blocked fish passage.
In 1979 the Squaretailers Rod and Reel Club installed a fish ladder near the mouth.  In 1980 DFO released steelhead into the creek, and between 1980 and 1983 an incubation box for coho was installed at Lynn Valley Road.  In 1987 a study of Hastings Creek estimated a steelhead population of 3,000 and a coho population of 350. In 1991/92 the School District released coho at Roblin Place, Kirkstone Road and Hastings Creek Park.
In 1993 the North Shore Streamkeepers began their own restoration activities. In July 1994 a fish ladder was installed at Lynn Valley Road and Mountain Highway by Fisheries and Oceans Canada, Salmonid Enhancement Program and the NSSK. For the first time in decades, salmon returned to spawn in the upper reaches of Hastings Creek.  In 1997, the Streamkeepers started fry trapping, did a mapping survey, and in 1998 started planting native trees in Princess Park . In 1999 NSSK started spawner surveys, developed educational signs, did bank clean-up, smolt trapping, and Donavon Pond Restoration. NSSK volunteers continue to clean the creek and ladder at regular intervals.
Coho, unlike chum, are a quick and elusive species and are hard to spot. During the spawning season from October to late December the sharp-eyed observer enjoying a walk along the trails in Hunter Park may be able to catch a flash in the water, a coho going upstream to spawn. Tiny cutthroat trout can be seen all year long, hiding under cover in places where the water is calm. The North Shore Streamkeepers deserve great praise for the wonderful work they have done reviving an important creek to its original state. If you'd like to learn more, or consider joining their ranks, please visit their website for more information.