For those of us at LVLife HQ, a favourite holiday highlight is letting one of our local citizens know that they have been singled out for LynnValleyLife's Good Neighbour Award. This year, we got double the pleasure, as this 2016's Good Neighbours are a husband and wife. Wilna and Dave Parry were both surprised and delighted to receive the news, which was delivered along with a fresh Christmas wreath, donated Black Bear Pub gift certificate, and the promise of their engraved plaque in the new year.
Dave and Wilna have called Kirkstone Road their home for 26 years now, but these amazing Lynn Valley citizens took the scenic route to get here. Wilna was born in South Africa, and met Dave there as a young adult. Dave was an English speaker; at that time, Wilna only spoke Afrikaans. But a romance developed, and married life brought them to Canada.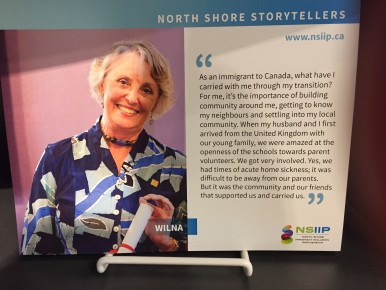 The couple's experience as immigrants have given them a heart for welcoming the newcomer, which takes many forms. Wilna participated in the North Shore Immigrant Inclusion Project, and you may have seen her story shared with others at this poster in the Lynn Valley Library. She also co-facilitated a week-long "Hearing Refugee Voices" at Sorrento Centre in BC's Interior, at which immigrants and refugees have the opportunity to tell each other about their backgrounds and their experiences settling in a new country.
As members of a North Vancouver multi-church refugee sponsorship group, Wilna and Dave have been amongst the first faces seen by people stepping off the airplane from troubled homelands in Syria, Somalia and Burma. They have helped them buy their first groceries, taken them camping, and coached them on their English skills.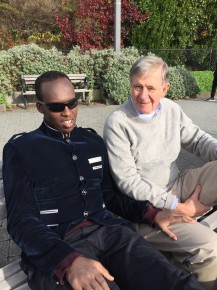 This year, Dave and Wilna went a step further and opened their home to a 24-year-old blind Somalian refugee, Bukhari, who was unable to live on his own as he had lost his sight, is challenged by other medical issues, and was not yet proficient in English. Since September, Dave and Wilna have provided a safe haven in which Bukhari, with the help of many people from the Regional Ecumenical Sponsorship Team and members of the local Muslim community, has been treated by local health care professionals, supplied with digital technology that helps him communicate with others back home, coached in Canadian language and culture, and included in family life and community events.
His skills and confidence have increased to the point that he and a caregiver have moved to an apartment near Vancouver Community College, where he has started taking classes for the vision-impaired. Wilna and Dave, along with others in the sponsorship team, continue to visit, help with physicians' appointments, and monitor his successes and areas where help is still required.
Dave and Wilna's efforts were exceptional this year, and we are proud to name them the LynnValleyLife Good Neighbours of 2016. But Wilna is the first to share the credit with others on the sponsorship team, and we know there are indeed many fine neighbours in our community.
During the recent snowy times, we were touched to hear news of a previous Good Neighbour nominee, Martha. Her husband Jim was well known for ploughing neighbouring driveways and sidewalks near Upper Lynn School with his trusty 1970s Sears Kenmore tractor. Last year, however, he had to move to Cedarview Lodge due to poor health. But it's clear he has not been forgotten. A friend visited Martha to shovel her walk after one of  the recent snowfalls  – and found she had already been beaten to the task by a number of neighbours who had been happy to help Martha out in recognition of all the times Jim and his tractor had come to their aid.
"Paying it forward" has become a phrase almost cliched in its use – but it's a philosophy that never gets old. Here's wishing you many opportunities to "pay it forward" in 2017, and the wisdom to ask for help yourself when you need it. LynnValleyLife's mandate is to make this community even stronger, so if we can help you get the word out about charitable projects or neighbours in need, please email [email protected] and allow us to do so.