There is no need to travel abroad for archaeological wonders, instead taking a walk through the Lower Seymour Conservation Reserve with a careful eye can reveal a phenomenal past – one Capilano University professor and writer Bob Muckle shares in his latest book Forgotten Things: The Story of the Seymour Valley Archaeology Project.
---
---
For close to two decades Bob Muckle has been exploring the Seymour Valley. It began as a practical solution: provide hands-on experience for his Cap U students. As they dug and documented he uncovered evidence of a past not recorded. 
"People can walk through the LSCR and have no idea of the activity that was going on there in the past," said Muckle. "All the settlements around the Seymour River were permanent homes but they were deliberately destroyed and the forest grows so fast. Things get buried really, really quickly. Most people could be in the middle of the Japanese camp and wouldn't know there was a thriving community there for decades a hundred years ago."
Muckle took to the forest to teach his students practical archaeological techniques evaluating the Euro-Canadian evidence in the LSCR. 
"There was nobody doing logging camp archaeology in BC so I thought I might be interested," he explained. "But I kept on finding Japanese artifacts at these logging sites and that was unexpected. I did a bit of research and it was really unexpected. There are some vague references to Japanese in the valley and working in the mill around Rice Lake. We didn't know the scale of Japanese activities in the valley." 
To learn more, Muckle scoured written records and spoke to people who had lived in the area in the 1930s and 40s.
"Very little has been written down," he said. "I spent more time investigating the Japanese because it was so unexpected and there was nothing written, so it felt more important."
Forgotten Things is a book aimed at both (future) archeologists and lay history buffs told in an informal, anecdotal style. It digs into a variety of archaeological finds in the area – including the extensive Japanese camp. 
---
---
The LSCR, as we know it, is not the forest past residents would have experienced. 
"A 100 years ago there was logging activity and there was some settlement," said Muckle. "The dam had been built early in the 1900s. It was starting to be logged out in the 1920s but activity continued a little bit longer. There was increasing settlement – not large scale. But there were some houses close to Rice Lake and there were larger settlements on the banks of the Seymour River. The environment had been logged so I don't think people would have valued the land all that much."
There were both titled owners and squatters establishing homesteads and communities.  
"It was also a recreational area. On the banks of the Seymour River, there were rental cabins where people would come over from the city for a weekend or for a week in the summer to swim in the river.
"In the 1930s the government started buying up, evicting, and expropriating properties," said Muckle. "When they left, the government would burn all the buildings down because they were trying to protect the watershed and didn't want anyone living there. They fenced it off until 1987."
With diverse experience under his belt from archaeological sites around the world, Muckle has turned to more recent history.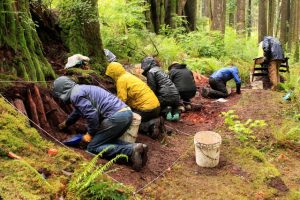 "North America, British Columbia, Metro Vancouver are fascinating," he said. "There is so much archaeology to study here. The western, European, colonial view that Indigenous history is not that interesting is completely wrong – it's fascinating. It goes back thousands of years. The entirety of archaeology in BC is so rich, from thousands of years ago to contemporary times."
The difference between BC and other parts of the world is that frequently ancient people used stone to build. In BC, most structures were made from organic materials, which when combined with a temperate climate left little for the untrained eye to see. In the LSCR other mitigating factors make sites difficult to find. 
"You need it to be interpreted because everything was burned and then [naturally] buried. It's unlike, the pyramids of Egypt or castles, most of the archaeology in British Columbia has what we call 'low-archaeological visibility' meaning it's tough to see without someone telling you – then it all makes sense." said Muckle. "I think that is why people tend not to think of archaeology in BC compared to Egypt or Africa where these features are so prominent. It doesn't mean it isn't less phenomenal but it requires more experience and interpretation. It's easy for an archeologist to see but the public thinks what they are seeing are natural landforms." 
---
---
In the LSCR, the return of second-growth forest has happened very quickly – in the archaeological sense. 
"The forest grows really fast. It has taken it all over now. If you go back 100 years and you were walking through these pathways, the trees would have been very small. There would first growth stumps very visible and there would have been a lot of burned-out areas and occasionally you would come across houses or orchards." 
In the early 1900s, the logging operations in the Seymour Valley were different than those in Lynn Valley or the Capilano area, said Muckle. 
"It wasn't 'meaningful' – people today have more of a connection to logging in the Capilano or Lynn Valley areas. You can find people whose grandparents worked in the area and there were people living in the area. My sense is there is a deeper connection in those areas but in the Seymour Valley there wasn't the longevity of connection. The Japanese and others were just going in and getting out. They weren't putting roots down – with the exception of the one site I found." 
What Muckle and his students found was the evidence of a long-term, well-established Japanese community. In a completely unexpected place, it showed signs of being quickly abandoned, likely with the forced internment of Japanese and Japanese-Canadians during WWII. 
"I think people were able to stay at this site until they were forced to leave for interment. They could take so little for them, they weren't taking their diaries or written histories," he said. "They weren't even taking the goods they had. That is why at this site there are perfectly usable artifacts – which is unusual in archaeology. These weren't thrown away, they were good. This isn't trash. Dishes, cook stoves, it's really unusual."
The internment of Japanese Canadians resulted in substantial loss of their history, wealth, and property. Throughout BC, much of the community archives and artifacts were destroyed. This has left a substantial hole in the historic records. Muckle has shared both the site and its finds with the Japanese community. 
"They are grateful because there was so much loss," said Muckle. "They have said, 'We didn't know our ancestors were in the valley' because there was no record of it. There is a bit of information in memoirs, but it's mostly secondhand. I invited curators of the Nikkei [National Museum and Cultural Centre] and North Vancouver Museum to choose items for their collections. In a follow-up conversation with the Nikkei director, they were so thrilled because I had context of the items. They get donations from the early 1900s but there is no understanding of context so there isn't much a museum can do with it." 
The entire project is an excellent example of how the historic [written] record is flawed and biased, he said. A record he hopes his new book helps correct by looking at tangible evidence, rather than the written records of a small, privileged group of people.
"In the Seymour Valley there are written records saying the Japanese were there but nothing more," he said. "The records aren't accurate and when we talk to some of the early residents and we mention these histories they will say, 'That's just nonsense. That didn't happen.' Archaeology fills in the gaps of knowledge that history can't."
Bob Muckle's book can be found at Monova: Museum of North Vancouver, ordered through Edgemont's Kids Books or online.
Images courtesy of Bob Muckle.