From the garden of Lynn O'Malley: 
Nature is all swings and roundabouts, isn't it?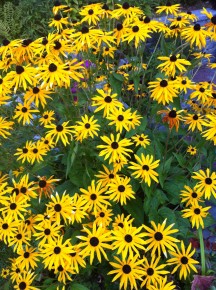 Just when one is ready to despair over the constant mildewing of the zucchini leaves, a bumper crop of sweet peas gives one cause to celebrate. Non-productive clematis vines are overshadowed by an abundance of black-eyed Susans.
At least that's how it was in my upper Lynn Valley garden this year, which seems always to be unpredictable in its yearly showing – largely a result, no doubt, of the inconsistent care and attention it gets from its owner. But whether it is nature or nurture that makes one year's bounty so different from the next, the kaleidescope tableau that results is never the same twice.
My garden highlight this year has been my sweet pea teepee, which is still covered with blooms. In years past, I've strung up sweet peas against a backyard wall under the eaves and then constantly forgetten to water them. This year, I plunked them front and centre in my raised veggie bed by the street, along with the Swiss chard and green onions, where they were assured of some life-sustaining attention from the automatic sprinkler.
The biggest benefit I've reaped from the resulting healthy crop hasn't been aesthetic, though the flowers' incredible scent is a lovely addition to the vegetable garden. No, the very best part about the prolific sweet peas is the number of excuses they have given me to visit friends and neighbours, bouquet in hand.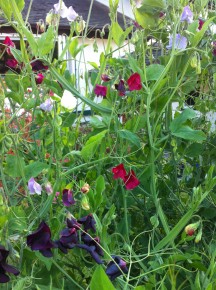 When your sweet peas need to be picked, they need to be picked. So what better time is there to drop in on someone you've been meaning to visit for ages? It's been a pleasure to use the sweet peas as my calling card in a number of homes and workplaces this summer. Pretty and amazingly fragrant, they are always well received (I should aspire to be so popular!)
Fortunately the memory of my happy sweet pea moments will serve to blot out any other agricultural disappointments from Summer 2012; the above-mentioned zucchini issue (everyone complains about their overabundant zucchini harvest, while I sadly ruminate upon my three small green accomplishments), the Shasta Daisies overcome with aphids and something else that caused their heads to wither; the pot of flowers that was supposed to be a riot of pink and blue, but the pink bloomed and died back in early July, while the blue is just now opening from bud.
All is forgiven, all is forgotten! Summer 2012 was the Sweet Pea Summer.
Do you want to keep the floral fun going this fall? Posy Florist in Lynn Valley Village is offering a series of workshops, from basic floral design (mandatory for newbies) to ones that will teach you to create your own Thanksgiving centrepiece or Christmas wreath. Have a look at the Posy site for more information – first class is on Wednesday, Sept. 26th!)