With the help of the Lynn Valley firefighters, one local teen was able to – literally – have a blast with his Ice Bucket Challenge, as seen on this video he posted to our Facebook page on August 22. This freeze-frame might make you feel frozen indeed!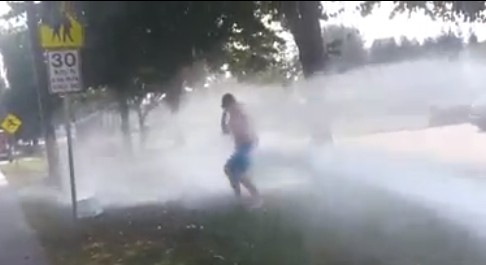 The ALS Ice Bucket Challenge has gone viral and then some this summer, raising over $22 million in funding for the ALS Association. ALS, or amyotrophic lateral sclerosis, is also known as Lou Gehrig's disease. Participants in the challenge, which entails dumping a bucket of ice water on one's head and challenging others to do the same and/or donate $100 to the association, have ranged from average people of all ages to wellknown celebrities and politicians.
In this made-in-Lynn Valley version, Sam enlisted the help of the obliging Lynn Valley fire crew, who met him at the park and blasted him nearly off his feet in the name of a good cause. Sam – who challenged a couple of his high school friends, along with DNV Mayor Richard Walton to do their own Ice Bucket event – survived the hosing off, and had many thanks for the firefighters who took part. Hats off, too, to young passerby Cole Diemart, for suiting up in fire chief gear and leading the blast-off!