Received on March 12 from the Lynn Valley Legion. 
Comrade Harold Finnegan, a beloved member of Branch #114 and Veteran of the Korean War, passed away this week.  A Celebration of  Harold's remarkable life will be held at Branch #114 this Saturday [March 14].  Please join us for a Full Legion Ceremony and service for family, friends and Comrades beginning at 11:00 a.m. A reception will follow at the Branch.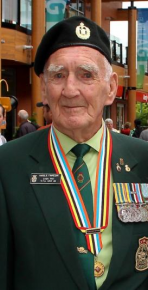 Harold was born in Ottawa, Ontario in 1931 and his family moved to St. Martin's, New Brunswick, when he was a young boy. At 10 years old, Harold joined the Cadets.
In 1946, he enlisted in the 8th New Brunswick Princess Louise Hussars (Militia) in Sussex, NB and drove his first tank ( a Stewart) just before his 15th birthday.
Harold joined the Canadian Army Special Force (Korea), in C Squadron, Lord Strathcona's Horse (Royal Canadian) in 1950 and served in Korea from May 1951 to May 1952.  He took his release from the CASF but rejoined the  Active Force in 1954.  From '54-'75 Harold served in South Vietnam, Cambodia, North  Vietnam and completed two tours in Cyprus and 3 years in Germany.
Harold was a member of the Korean Veteran's Association #49 and long-standing and very active member of the Royal Canadian Legion, Branch #114.
Harold was also an avid volunteer; he  helped at LV Kiwanis with teaching and helping fellow tenants with their computers and always ready to support our Branch with community activities. And he was great at calling Bingo on Saturdays.  We will all miss him.