With March Break fast approaching there is always a bit of panic: how will the kids keep busy when you are at work? LynnValleyLife is looking at three made-in-LV solutions to engage and challenge children and provide some experiences far different than the classroom. 
---
---
For nine years Soaring Eagle Nature School has been taking kids out of the traditional classroom into the forest.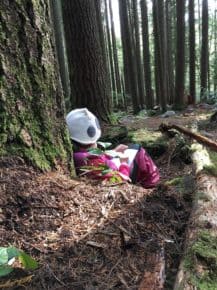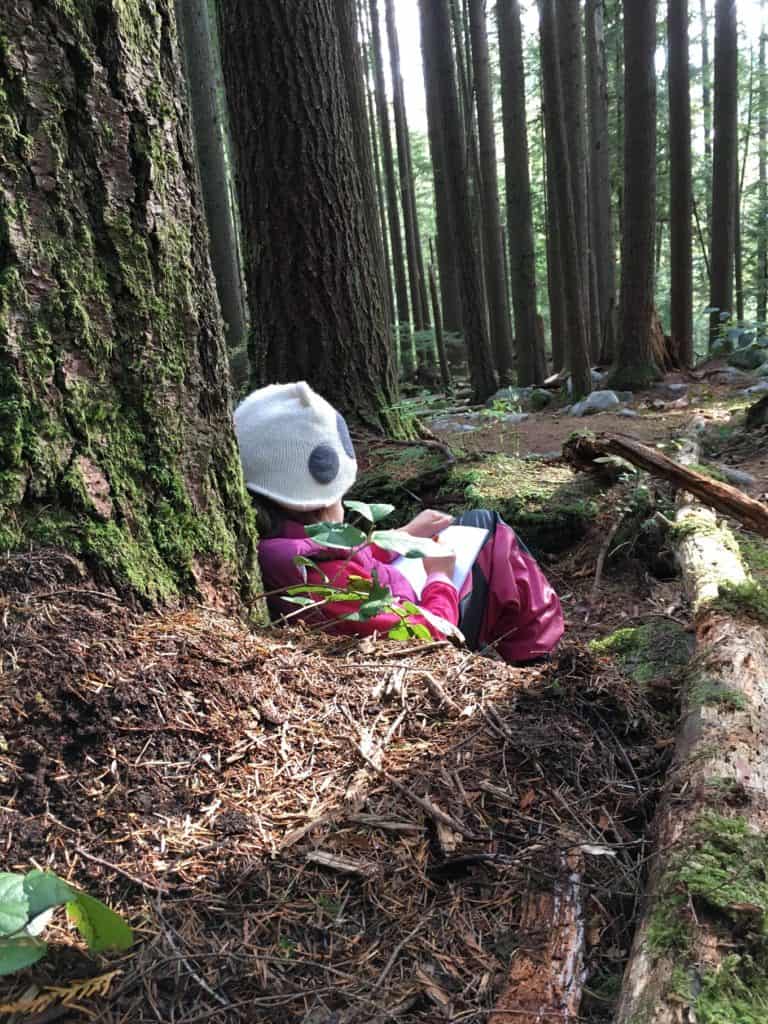 "We are  a nature-based school that has an emphasis on naturalist skills as well as survival skills," said Jenna Rudolph, co-founder, director and lead instructor of Soaring Eagle Nature School. "We are based completely outside – we don't have any indoor space. We go out to the forest get the kids really comfortable being outside and learning skills that go hand in hand with being outside." 
Based in Lynn Valley, Soaring Eagle offers weekly and monthly programs throughout the school year as well as camps during the spring and summer breaks. The growing interest in forest schools has helped the school expand from the Lower Seymour Conservation Area to Pacific Spirit Park in Vancouver and Minnekhada Park in Coquitlam.
---
---
For the uninitiated, forest school, defined by the Forest School Association, "is an inspirational process, that offers ALL learners regular opportunities to achieve and develop confidence and self-esteem through hands-on learning experiences in a woodland or natural environment with trees." One report concluded that children, especially, acquire knowledge experientially, through play, experimentation, exploration and discovery. Research shows that many of the fundamental tasks that children must achieve, such as exploring, risk-taking, fine and gross motor development and the absorption of vast amounts of basic knowledge can be most effectively learned through outdoor play.
---
---
More than anything, in my family's experience, forest school is fun. Where else do adults encourage kids to run endlessly, coat themselves entirely in mud or make them pause to listen to the forest? They learn about things like plants and seasons, erosion and weather, insects and animals. Moreover through play they conquer intangibles like compromise, creativity and social development.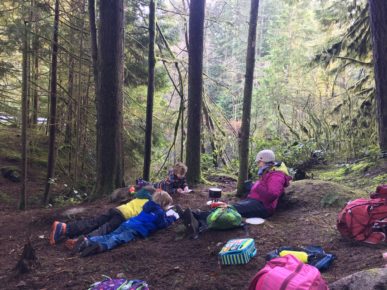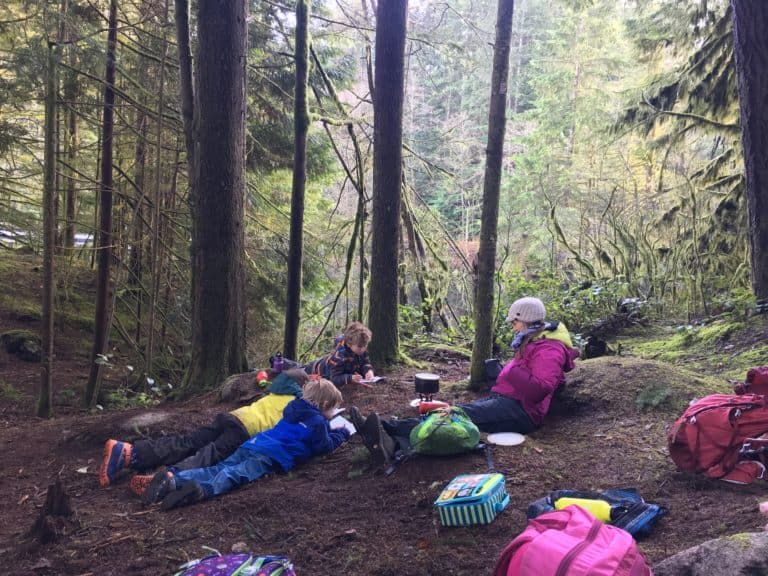 Rudolph echoes that some impacts are obvious – others less so.
"I think the rewards are that they can bond and connect with something that is real which can help them learn more about themselves," she said. "I think they get a lived experience of what it means to take care of yourself. Today was the wettest day we have had all year and the four-year-olds I was with learned that if they are not prepared that will impact their experience and their fun in the forest. I think that lived experience shows the reality of caring for oneself and for others."
Children will also grow and develop physically be being part of such a program.
"Kids learn to use their bodies in different ways – we have to climb over logs, avoid puddles. We have to climb under branches," said Rudolph. "The change in body movement is pretty huge. We have to look at solving problems in a different way. If it's wet – where might we go to find cover or different situations come up where we have to work together to figure things out. It's different than being in a classroom because it is happening right there, and it needs to be dealt with in real time."
---
---
For Spring Break, Soaring Eagle is offering a number of camps. Like most of its programs, the camps fill up quickly.
"It will be full of nature-based games, cool nature discoveries and adventure in the forest," said Rudolph. "Basically exploring whatever the forest is doing. Spring is an incredible time. There are many of plants coming up and growing, a lot of birds returning so there is definitely a lot to explore, to learn what's new and to see what is changing."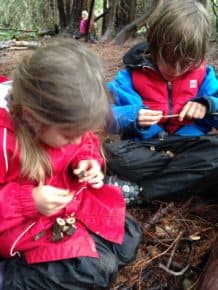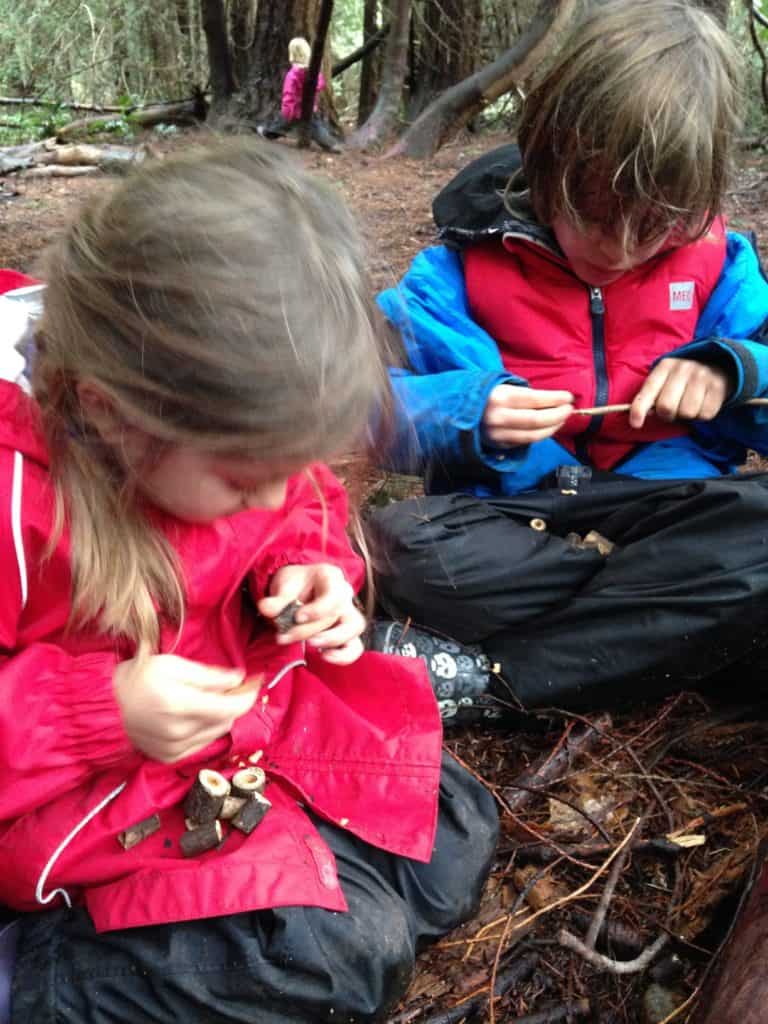 There will be plenty of activity to keep warm and explore the forest, but facilitators will also take time with the children to slow down.
"Kids often want to be really loud and excited in the forest but a lot of the games and activities require the kids to be quiet and sneaky," said Rudolph. "It's those games where we have some really special moments. Hiding in a bush, we might see a spider or insect crawling by that we might not have noticed otherwise.
"Being quiet and moving slowly allows us to get closer to wildlife than we would have otherwise and I think that brings a deeper sense of reverence for the forest when we are fully aware of where we are and realizing we are in some other creatures space. That is when the really magical things start to happen – in the quiet and still."
Like any outdoor adventure on the North Shore, both children and staff need to ready for just about anything.
"Be prepared for any kind of weather: having lots of warm clothing, having some extra layers, having good rain gear and boots," explained Rudolph. "Be prepared for the newness of being outdoors for a long period of time. Being aware of your safety and others safety – keeping warm. We make sure that each child is dressed appropriately or has what they need in their backpacks. As staff we always have extra gear in our packs for kids if they need it. Often on cold days we have stoves and water to make tea. We always have tarps with us."
With time and space to explore and grow in the forest Rudolph hopes participants walk away a little bit changed.
"Expect that after just a few hours in the forest it feels like the you have known the people you are with for a very long time," she said. "You can expect new and different experiences that other people don't get to have."
To learn more or to register for any of Soaring Eagles' programs visit its website.
Are you or your organization offering spring break nature activities in Lynn Valley? Feel free to let the neighbourhood know by posting directly onto our Facebook page!