Lynn Valley Optometry is celebrating its 20th anniversary!  And as part of the celebration, the shop is holding a Facebook sweepstakes with some prizes you won't want to miss.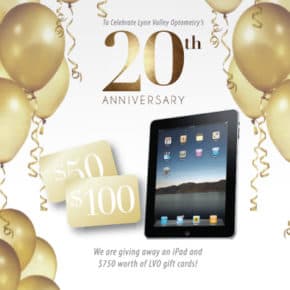 Available to be won are an iPad and ten Lynn Valley Optometry gift cards. Five of those gift cards are worth $100 and five are worth $50; they can be used towards glasses, contacts, sunglasses and other products sold at Lynn Valley Optometry.
To enter click here, or head to their facebook page and click 'enter contest' under the cover image.
Lynn Valley Optometry opened its doors in 1992 on the northwest side of the 1200 block of Lynn Valley Road. At this time Lynn Valley Optometry had three employees in what could definitely be called a 'cozy' office. In 2007, the office moved across the street into Lynn Valley Village. Currently, the office has 14 staff members, including two doctors and two vision therapists, and was voted favourite optical store by North Shore News readers for the past two years. During that time it were also voted best optical store by the North Shore Outlook readers.
Lynn Valley Optometry is very excited to be able to share its 20th anniversary celebrations with the community.
For more information about Lynn Valley Optometry, check out its website.