If you see students running from their schools en masse this week, don't worry, it isn't a fire – they're just taking part in the annual Terry Fox School Run.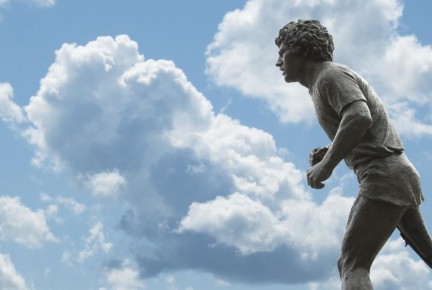 Janet Dunkin, French teacher and organizer of Argyle's run on Thursday, Sept. 27th, says the high school has been participating in the event for at least 25 years. The whole school will run in the blocks around Argyle at about 12:40 that day, with traffic-directing support from the RCMP and Parent Advisory Council, and the senior PE classes acting as race marshalls.
Ms. Dunkin is a driving force behind the school's involvement, due in part, she says, to her own family's experiences with the merciless disease. Both of her daughters, Colleen and Katharine, had malignant brain tumours as infants. While they both survived that harsh beginning, Katharine passed away in 2003 when she was a 16-year-old Argyle student, from a cancer that was linked to her earlier treatment.
Many of us know people both within and without the school community who are currently battling the illness; there are no shortage of reasons to show your support this week. Argyle is hoping to raise $3,000 for the Terry Fox Foundation, and students will be collecting pledges until early October. If you don't know a local elementary or secondary student who can collect your donation, please consider pledging to one of our local schools' campaigns via the Terry Fox Foundation School Run website.
And if you're out driving on Thursday, watch out for kids running where and when you least expect them!