Breaking news! Consider this: if Vancouver is ranked amongst the Top 3 livable cities in the world, and Lynn Valley has just been picked as the North Shore's best neighbourhood, does that mean we just might live in what may be the best community on earth?!? We think so!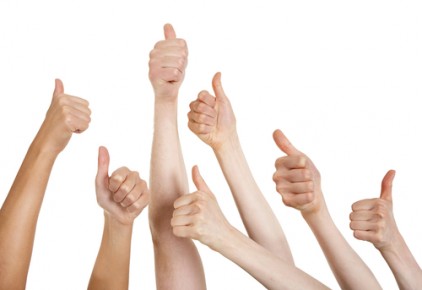 Lots of people feel that way about their hometown, as they should. But we're proud to point out that Lynn Valley came out on top in the North Shore News annual Readers' Choice Awards, which were announced in that newspaper today.
This year over 4,000 North Shore residents cast their votes in the Readers' Choice Award categories, via print and online ballots. We'd like to send our congratulations to the many Lynn Valley winners and finalists, and our thanks to our readers. Your support meant that LynnValleyLife.com was voted the North Shore's Best Website!
Here is the list of local luminaries, who work hard to make our neighbourhood #1:
Winners:
Best Neighbourhood: Lynn Valley
Best North Shore Website: LynnValleyLife.com
Best Florist: Posy
Best Optical Store: Lynn Valley Optometry
Best Butcher: Westlynn Meats and Seafoods
Best Produce Store: Kin's Farm Market, Lynn Valley Centre
Best Hair Salon: Zazou Salon & Spa
Best Yoga Studio: YYoga, Lynn Valley Village
Best Place for Cocktails: Browns Socialhouse, Lynn Valley
Best Patio: Browns Socialhouse, Lynn Valley
Best Business Lunch: Browns Socialhouse, Lynn Valley
Best Neighbourhood Pub: Black Bear Neighbourhood Pub
Best Coffee Bar: Delany's Coffee House, Lynn Valley
Best Caterer: Tommy's Catering
Best Biking Trail: Seymour Demonstration Forest
Best Bakery: Westlynn Bakery, LV Centre
Best Tourist Attraction: Lynn Canyon Suspension Bridge & Ecology Centre
Finalists:
Best Garden Centre: Maple Leaf Garden Centre
Best Drug Store: Shoppers Drug Mart, LV Centre
Best Dressed Window: Posy
Best Home Improvement: Woodstop Building Suppplies (Irly)
Best Dry Cleaner: Courtesy Cleaners
Best Health Food Store: Lynn Valley Vitamin House
Best Seafood Store: Westlynn Meat and Seafood
Best Gift Store, owner-operated: The Red Tulip
Best Annual Festival: Lynn Valley Day
Best Retirement Home: Sunrise of Lynn Valley
Best Alternative Health/Therapy: LV Orthopaedic & Sports Physiotherapy
Best Community Fitness Facility: Karen Magnussen Rec Centre
Best Dance Studio: RNB Dance & Theatre Arts
Best Skincare Services: Zazou Salon & Spa
Best Spa Facility: Zazou Salon & Spa
Best Private Liquor Store: North Shore Liquor
Best Weekend Brunch: Browns Socialhouse, Lynn Valley
Best Breakfast Restaurant: Tommy's Cafe
Best Hiking Trail: Baden Powell & the Lynn Loop
Best Place to Walk the Dog: Lynn Canyon
If you haven't tried out the above merchants or attractions, maybe now's the time – your neighbours know what they're talking about!