For more than five years, North Vancouver District planners have been trying to get into the heads of Lynn Valley residents. They've asked for our views, they've brought in speakers, they've created opportunities for online education and feedback, they've set up shop in the mall, they've gone to our youth, they've been at Lynn Valley Day, and they've hosted charrettes* (who even knew what those were, prior to that weekend in '07?)
All this was to facilitate the collective creation of a vision for Lynn Valley that would take its place in the Official Community Plan. This plan was adopted by NVD Council in June, 2011, and since then community planners have been fleshing out implementation proposals. We were given a look at some of these last spring, in another round of displays and feedback sessions (please see this blog post from April).
Now, this big subject has once again moved to the front burner because Safeway and Bosa (owners of Lynn Valley Mall) have both submitted preliminary application letters to the District, outlining in some detail their proposed redevelopment plans (click links to read the letters).
Of course, everyone has questions as to the future of our neighbourhood. Many of us are conflicted – we don't want our community to lose its 'charm,' but we have to admit some elements of the current mall are less than charming.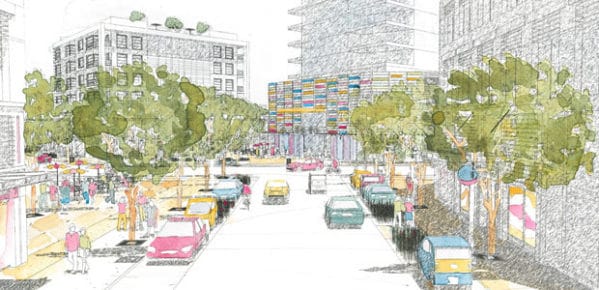 Maybe we're excited about some of the new public amenities, green spaces and walkways that are proposed under the Town Centre plan, but find it hard to get behind some of the high-rise developments that would help bankroll such additions.
Or maybe we're happy there will be lower-cost, higher-density housing alternatives for our young families and seniors, but are still concerned about how added multi-family complexes might impact the amount of vehicle traffic in the valley.
And some days, you might feel one way in the morning, and another way by dinnertime! That's understandable. The revitalization and redevelopment of our neighbourhood is a huge project (most of these plans are expected to take place over 20 years, not all at once!) and it's hard to weigh out all the pros and cons that each change might bring.
There is a helpful District Identity website that has a good background on the Lynn Valley Town Centre plan, and links to earlier presentations and publications, but we'd also like to help time-starved residents access information quickly and easily. We see it as our job to bring you the info you want, as you need it.
Over the next few months, we'll be taking some of your top questions about the town centre plans and addressing them, one at a time. We know there will likely be a range of viewpoints (and perhaps no easy answers!) to give you on most of the topics, but we'll endeavour to explain the basics as best we can, and point you in the right direction if you'd like more in-depth information or would like to share your own thoughts.
So, if you'd like us to focus on a certain aspect of the Lynn Valley Town Centre proposals, please contact us soon at [email protected] We look forward to hearing from you!
* For those who still don't know, a charrette is "a public meeting or workshop devoted to a concerted effort to solve a problem or plan the design of something." There were many thoughts shared at the Lynn Valley charrettes in 2007!