For decades, Lynn Valley United's red-brick church was a community landmark at the corner of Mountain Hwy and Harold Road, just across from Lynn Valley Elementary School. Even non-churchgoers enjoyed its annual fall fairs and encouraging notes on its message board near the street.
Now its members are ready to welcome the public again, this time into a brand-new building on the same location. For well over a year, the church has been using temporary locations in the neighbourhood for worship, administration and its Friday Night Live gigs while its property was redeveloped into residential units that curl around a bright new church.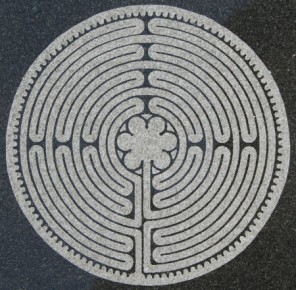 Members have been getting the feel of their new worship space since just before Christmas, and are looking forward to throwing open the doors to all on Saturday, Feb. 25, from 1 to 4 p.m. Everyone is invited for church tours, refreshments, a ribbon-cutting and more.
One feature of the new sanctuary is the incorporation of a labyrinth on the floor. "Walking the labyrinth" is an ancient Christian meditative practice that has enjoyed a resurgence in popularity over the past number of years. Those interested in learning more are invited to a free mini-workshop taking place on Sunday, Feb. 26 from 12:30 to 2:30 p.m.
Learn more about both events, and about its revamped Friday Night Live offerings, here.