Building on work in professional sports, Olympic games and academic circles, Lynn Valley's Ben Sporer is launching a book this month to take lessons he has learned as an elite sports physiologist to help others maximize their Output. 
---
---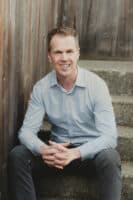 With more than 25 years working in the field of elite sport and human performance, Sporer's new book is his version of a pandemic pivot. Embracing the calls to stay close to home led to reflection. The immediate changes to life and work were viewed as an opportunity. 
"My wife and I went for hikes in the trails around Lynn Valley regularly and recorded our discussions around performance and reflected on the things I've learned throughout my career," he said. "We transcribed the stories, drafted a manuscript, and found a local publisher.  Fast forward 18 months and here we are. We're really pleased to be at this stage and see it in print."
The idea of writing a book had been percolating for a while. Sporer is frequently approached for his expertise. From parents of young athletes, athletes themselves, or executives who were striving to perform at high levels in work and sport, Sporer noticed common themes in their personal circumstances. Simply put Sporer wants individuals to focus on Output – not so coincidentally his book title – over the outcome. 
"Your outcome is the way things turn out, based on factors within and outside of your control. It is the result, so in sport this might be the score and whether one team won or lost. Output is an expression of your efforts based on things you can control. It's what you deliver in your performance," said Sporer. "To be a high performer, it is hard work, and you need to be prepared well. But there are times when you don't get the outcome you prepared for, or that you deserved."
---
---
Barriers could be bad calls, incredible opponents, terrible weather or equipment failures.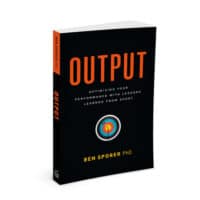 "This has really taught me to focus on output rather than outcome and on making sure you have a very clear idea of what defines a good performance relative to your objective. It is very easy to get caught in the emotion of a bad loss or a lucky win, yet neither of those are productive in producing sustainable performance."
Whether on the snow – Sproer is a former director of sport science and medicine for Snowboard Canada, on the pitch – he is currently a vice president in the Whitecaps FC – or in the boardroom, he sees common challenges facing people who want to perform at a high level. 
"Time and time again I've seen reactive behaviours if the outcome wasn't as expected, distracting people from their ongoing plan and preparation strategy, and often emphasizing things that don't really matter," said Sporer. "By clearly defining the output required to deliver on your objective, and then evaluating your performance against it, you can identify gaps and modify your preparation to get closer to sustainable high performance and achieving your objective."
Returning the subject's objectives is key said Sporer. Work backwards to determine the best path to success. 
"I've worked with many athletes and non-athletes and while each one of them is unique, the process is the same," said Sporer. "When I work with individuals or teams, we always start with clear objectives. We put the work in to clearly and honestly define what their true objective is, understand what is required to achieve it and develop and execute plans to get there. High performers, whether they're an athlete or not, don't just work randomly on different things, they work with purpose."  
---
---
He says the concepts in the book have been key to his own success. 
"It gave me a different perspective on my own objectives and helped me be really clear and honest about what they were. And the objectives weren't just career-related… [they] included the family and all the things that we want to do together. By having clear objectives, always allows me to focus on being able to deliver the output that's required to achieve them, and also helps me from getting sidetracked. It's a constant process that I revisit regularly."
This is a busy month for Sporer. His new books will be available online and locally through 32 Books and Kidsbooks in Edgemont. 
"Hopefully [there is] a deep run in the playoffs with the Caps," he said. "It's been great to be part of building this team to where it is today and I'm excited about the club's future." 
As nice as those wins would be, Sporer returns to his objectives and his principal to focus on output. 
"Honestly, the thing I am most proud of is the life we've created for our family here in Lynn Valley. I have a great partner, two amazing kids and we live in an incredible community with access to the outdoors. And to do so while achieving success in my career is a great feeling. I feel very fortunate when I think about it."