There's some great Lynn Valley talent to be enjoyed in this holiday must-see for the whole family, coming to Presentation House from December 2 through 20. Lovers of Friday Night Live theatre improv will be delighted to know that Alan Marriott is one of the show's creators and cast members, and musical director is FNL's amazing Matt Grinke. Just a few other Lynn Valleyites taking part are sound director Tim Knight and Monica Sumulong, playing bass in the 10-piece North Pole Orchestra! Learn more about the show below, and get your tickets before they're gone!
GTI Theatrical Productions Society, with the generous support of Famous Artists Limited, is proud to present the return engagement of Mrs. Claus's Kitchen, a fresh holiday musical for the whole family.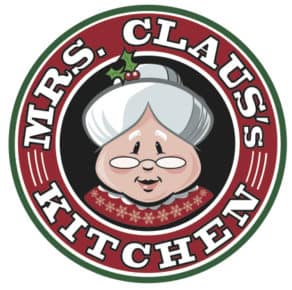 Originally directed and choreographed by Jeff Hyslop, this year, the show enjoys additional direction and dramaturgy by Max Reimer. Mrs. Claus's Kitchen was written by Bill Allman, Alan Marriott and Kevin O'Brien and this charming production wowed audiences with its Christmas spirit in December 2013. This year, Mrs. Claus's Kitchen returns with even more elves, more songs and more family magic, and now features the fabulous 10-piece North Pole Orchestra led by Music Director Matt Grinke.
Mrs. Claus bakes Christmas spirit and it is the magic of her kitchen that binds the entire North Pole operation together. But after years of toiling in Santa's generous shadow, she feels under-appreciated at the North Pole. Wanting some free time to reconnect with her famous hubby, Mrs. Claus enlists the aid of her trusted elves, the daffy Robin, and the prankster Ruprecht, and, convinced by Jonathan Brooks, the workaholic CEO of New York City's Megabake Inc., she embarks on a quest to spread her baked goods worldwide.
Assuming the woman in his office is a kind-hearted delusional with a great recipe, Brooks ignores his own family when he sees an opportunity for gargantuan profits with the Mrs. Claus's Kitchen brand and a revolutionary production practice set to a thumping disco song. With family traditions and holiday togetherness at the core of this heartwarming tale, Mrs. Claus discovers the "magical" recipe for drawing families together and helps to heal the Brooks family along the way.
Set on the cusp of the 1960s, when modern Christmas really came of age, the show takes the audience on a tuneful ride – with a lively variety of original songs – filled with charm and laughter, and provides a fresh look at the hustle, bustle and real worth of a family holiday. A delight for all ages, Mrs. Claus's Kitchen gives the audience a chance to "taste the magic" by getting "hands-on" in the kitchen of the world's most famous workshop!
Suitable for families with children aged 5 and up.
Don't miss this new holiday classic! Tickets are on sale now!
Tickets can be purchased online at www.phtheatre.org, by phone at 604-990-3474 or in person at Presentation House Theatre.