There is no shying away from hard work for these industrious Argyle Secondary students. Leveling up their resume, Rohaan Drar and Morgan Garstin, have started their own company. Now offering yard and labour services, the pair is employing 10 other students. Argyle Students Services is aiming to help Lynn Valley residents take care of their homes. 
---
Getting their hands dirty
---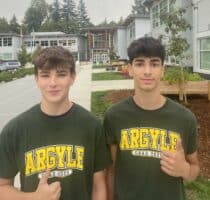 A little hard work has inspired the two grade 11 students to become their own bosses.
"I got a job stocking shelves at Save-On and it didn't take long for me to think that this isn't for me," said Drar. "I thought if we worked for ourselves, we might earn more money and learn something."
With Drar's interest in pursuing business in post-secondary school, Garstin's interest in trades, and their shared experience doing labour tasks, a home service business was the idea that had the most potential.
"We realized that most kids have done this kind of work for their families or neighbours," said Drar. "I was kind of inspired by the work I used to do with my dad. He runs A Star Homes. I used to sweep or clean up wood for him."
It's a partnership with A Star Homes that has allowed the young business to get off the ground. 
"Argyle Student Services is operating as an arm of A Star Homes," said Drar. "Our clients are protected by insurance just like any other home service business."
---
---
Drar positions Argyle Student Services as ready to do many of the tasks homeowners don't have the desire, time or energy to tackle themselves – from weeding to moving labour to just about anything.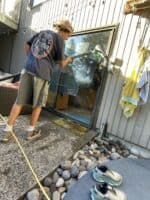 "It takes persistence to knock on doors and keep knocking when you get nos," he said. "Then one person thinks 'Sure, I will give these kids a try' – then they see we do great work – better than they thought we would. It's an adrenaline rush having someone say yes. We never leave until a customer is completely satisfied. It's been going well – we have gotten some good tips."
And more importantly: word-of-mouth referrals. 
"In the summer we got more work than we could do with weeding and yardwork – so we began hiring our friends. We are professional. There are some services like pressure washing that require skill – we make sure they know what they are doing."
The small business has invested in professional-grade equipment – like pressure washers and window washing equipment. 
"We want people to call us when they have a job they don't want to do. Just about anything – and we can do it quickly because we have lots of guys wanting to work," said Drar. "We are ready for leaf raking and are getting ready for winter and snow shovelling. You can book us now for the winter and we will have someone at your door with a shovel when it snows."
The team hopes to line up contracts throughout Lynn Valley in advance so residents aren't worrying about finding snow-clearing help, said Drar.
For more information call Rohaan Drar at (604) 779 – 8526 or visit the company's website https://www.argylestudentshomeservices.com/