Be sure to get all your chores before Friday this week, because you won't want to miss a minute of the goings-on in Lynn Valley this weekend. We're confident the weather will cooperate, so get your calendar out and make note of the following!
If you're one of the lucky ones who scored a ticket to the Lynn Valley Day Gala Dinner, you already know what you'll be doing Friday night – dining and dancing under the tent and putting in some bids on auction items to help support the North Shore Rescue team.
If you left your ticket buying too late, don't despair – cap off your week by taking in the never-fail laughs provided by members of the professional theatre sports troupe AddLibretto, performing at 7:30 at the weekly Friday Night Live event at Lynn Valley United. Special guest this week is violinist Andrea Siradze of the North Shore Sinfonia orchestra.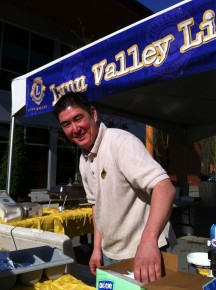 Saturday starts bright and early with the Lynn Valley Day Pancake Breakfast at 7:30 (or earlier if you decide to lend a hand to the stalwart volunteers showing up at 6 a.m.!) Spend the rest of the day enjoying the 10 a.m. parade, exhibits, rides, performances, and games at the 100th Lynn Valley Day extravaganza; all details are here.
Rest up Saturday night (you'll sleep even better if you help put away the tents and tables in Lynn Valley Park!) and then head to Lynn Headwaters Park on Sunday for their Wilderness at Your Doorstep event from 10 a.m. to 2 p.m. Join archeologists and experts on natural history and local trails in the BC Mills House, and take a walk fuelled by some coffee from the Tim Hortons Community Mobile.
That afternoon, enjoy the fruits of other people's labours with a visit to the two Lynn Valley gardens taking part in the annual Art in the Garden event.
From noon to 5 p.m., pay just $1 to tour gardens that showcase not just their owners' green thumbs, but the work of local artists and musicians.
The Lynn Valley gardens are located at 1731 Torquay Ave. and 1531 Kilmer Pl. See the North Vancouver Community Arts Council website for details on musicians' set times and other North Shore gardens participating in the tour.
After a weekend like that, you might just be glad to head into the office Monday for a rest! Enjoy it – and our thanks to all event organizers for putting on a weekend to remember!
P.S. If we're wrong and the weather DOESN'T improve, don't fret – just head on over to the Library Book Sale, on from Friday to Sunday!