A local mountain biker is aiming to disrupt the rampant bike theft market tormenting Vancouver, and anywhere bikes are ridden, with hidden GPS technology and some mentoring from a Dragon, Fraser Vaage has launched Snik.
---
---
When the pandemic slowed the job market North Vancouver's Fraser Vaage saw an opportunity to tackle a problem plaguing biker riders like him: bike theft.
"Bike theft is a real problem," said Vaage, Snik co-founder. "Coming from competitive downhill mountain biking I had four of my core friends have their bikes stolen in a really short time. It's a bad state in Vancouver – and really everywhere. We have seen a jump in users through the pandemic and an increase in bike value – there are bikes worth $10,000 sitting in unattended communal storage areas."
The North Shore RCMP agree.
"It's a problem here," Cst. Mansoor Sahak, media relations officer for the North Vancouver RCMP. "I don't have any stats of stolen bikes. But I can tell you that we get a lot of reports of stolen bikes."
With more people on bikes and more people living in condos – some of which forbid bikes in hallways preventing in-unit storage – Vaage was frustrated with the rise in thefts. Friends were seeing bikes stored in 'secure' storage with multiple locks disappear. 
"Bikes are most vulnerable in these low-traffic public storage areas and more often they are the only option for riders."
---
---
With a solid background in biking and a decade in marketing, Vaage started looking at theft in a different way. The rise of technology like Apple Air Tags was a step forward but not a gamechanger.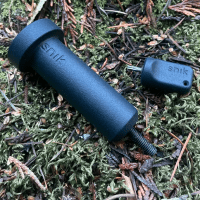 "No one is tackling bike theft in a new way," he said. "I should be able to know when my bike moves."
Three years later, Vaage and his team launched Snik on March 1. 
"It's a bike security technology," he said. "It is integrated inside your bike to let you know if your bike moves without you. It's been engineered specifically for biking. When I hop on it pairs with Bluetooth and knows it's me. When I finish my ride and walk away it unpairs and it is monitoring my bike. If it moves it triggers a notification and from there I can look at a live map, I can send out a community alert or I can send a text message with a live link to the police."
The RCMP are intrigued by what they have seen.
"I think the device is a great idea to keep track of your property. We encourage people to find ways to safeguard their personal property, " said Sahak. "This device would definitely help police track stolen bikes and retrieve them."
Snik slides into the stem of a bike and is secured using a lock also used by the US military and CIA. It looks like a normal stem cap, said Vaage, but hidden inside is a battery and GPS system with its own cellular signal. Coming in at $150 at launch including a year of monitoring, it falls well under the rule of thumb to invest 10% of a bike's value in security. After the first year monitoring will be $7.50 a month. 
"We want to make it approachable," said Vaage. "We want to give peace of mind to someone with a $1500 commuter or a $10,000 downhill bike."
---
---
There has been a lot of interest in the new technology. Vaage is being mentored [not financially backed] by former Dragon's Den funder and tech venture capitalist Lane Merrifield, who just so happens to be a former boss. Talks are underway with e-bike manufacturers to incorporate the Snik at the factory level and local police have expressed interest in using the Snik as part of the bait bike programs in Vancouver and Whistler. Vaage says they are particularly interested because of how the location information in the Snik app is also paired with proof of ownership.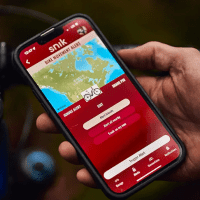 "When you get the Snik app you enter your bike details, from there it goes into a database, with all the parts populated and its registered with the serial number and the value so we have all that information. An officer told me that if a thief is smart they simply say it's their bike and now they need to go to court to prove it's not. That proof of ownership is essential," said Vaage.
"If your bike is taken and you aren't comfortable knocking on someone's door – like the downtown eastside, at that point you call the police – say this is what is happening, here is my registered bike, here is the route they took, here is proof of ownership. The officers don't need to be on the Snik app, you can send them a web-based link with all the information."
The app will also engage the community to get more eyes looking for the stolen bike.  
"Officers don't tend to spend a lot of time because the odds of getting the bike back a few," said Vaage. "I am trying to empower the community here. You can send a message and notify the 50 closest people – they are green, the bike is red and there is a chat below. I am not trying to encourage vigilantism but in the case of a stolen bike knowing where a bike is key."
And with accurate information, Sahak says the police will be able to help.
"We don't encourage citizens to put themselves in harm's way in order to retrieve their property," he said. "We ask that they call police and let us help them."
The built-in, rechargeable battery is designed to last for months on standby, he said.
"We have designed this to only use the battery when there is a theft. When you are riding it is on standby, when it's stationary it's on standby. It's only using the battery when it is moving without its owner," said Vaage.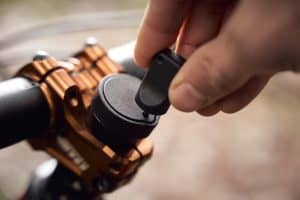 Once the Snik is activated it pings every five seconds to produce a real-time record of its movements. With communication every five seconds the battery is expected to last two and a half days but can be adjusted remotely to reduce battery use and extend battery life. 
"If it goes out of service or gets low on battery it will divert to the same technology as an Air Tag," said Vagge, extending the tracking substantially.  
Vaage hopes that when used with other security devices like locks the Snik will give riders peace of mind. 
"People aren't using their bikes because they are afraid they will be stolen," he said. "Maybe I will go enjoy a coffee or a beer after a ride because I will know if my bike moves."