Some current-day citizens of Lynn Valley knew Walter Draycott when he was alive. Most of us, however, know Walter as the man sitting on the bench, immortalized in bronze, in Pioneer Park on the corner of Lynn Valley Road and Mountain Highway. Others know him best from the pages of his excellent community history, Early Days in Lynn Valley, a must-have book usually available for purchase at the Community History Centre in the old Lynn Valley school.
Now, however, there is another, more intimate way to get to know him: from the pages of his own diary, in an online chronicle of his years spent as a military sketch artist in World War One. The unique project will unfold, one day at a time, each diary entry posted exactly 100 years after it was written. The North Vancouver Museum and Archives sent out the following press release today, and for a wonderful short video description of the project, click here.
*****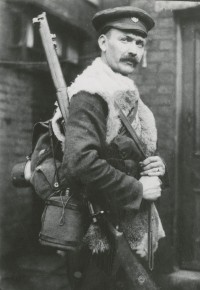 On September 13, 2014, the North Vancouver Museum & Archives launched a unique online project documenting and contextualizing one man's experience of World War I. In commemoration of the centenary of the War, each of Walter Draycott's war-time diary entries is being posted 100 years from the day it was written. The project, entitled "Walter Draycott's Great War Chronicle" spans the four years of the War between 1914 and 1918. It will be updated daily between 2014 and 2018, with personal photographs, battlefield drawings, and other materials, complementing Walter's terse diary entries.
An early settler in Lynn Valley,  Walter Draycott answered the call for men at the start of World War I. By the end of 1914 he was thrust into combat on the Western Front as part of Princess Patricia's Canadian Light Infantry.
Years later, upon his death at the age of 102, Walter left his entire life-time's set of diaries (1907-1985) to the North Vancouver Museum and Archives (NVMA). According to Archivist Janet Turner, "NVMA staff has long been intrigued with Walter's life, the documents he left behind, and in particular, the tiny volumes that recorded his years as a soldier and military topographer."
"The 100th anniversary of the outbreak of the Great War this year provides a perfect opportunity to share these unique materials with Canadians and the world," Turner explains. "Walter Draycott's personal records are significant because they provide an entry point into the momentous changes that were taking place at the time."
Throughout the website, audio, essays, photographs, and other resources help connect Walter's words to a rapidly shifting political, economic, and cultural landscape. Many of the significant diary entries are brought to life with voice-over readings by North Vancouver actor Gordon Roberts, veteran of the musical Billy Bishop Goes to War.
Yearly essays by BC military historian, David Borys, link Walter's personal experience as a self-described 'pawn' to the unfolding global conflict. Photo albums help visitors envision Walter's world with personal portraits, battlefield drawings, and images from his original handwritten diaries.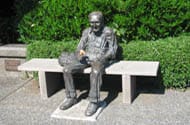 "Walter Draycott's Great War Chronicle" is presented by the North Vancouver Museum 
& Archives with funding from Veterans Affairs Canada, City of North Vancouver, District of North Vancouver, Friends of the North Vancouver Museum & Archives Society, and the Canada Summer Jobs program. The interactive website can be found at:  greatwarchronicle.ca