We're super excited that Friday Night Live will soon be back, with its weekly run of musical and comedy improv starting up again on September 26. It's always good for a laugh – well, many laughs – and FNL's variety of guest artists gives regular audience members an unparalleled opportunity to experience an amazing cross-section of both seasoned and new Vancouver-area performers from different genres. It's a cheap, easy and FUN way to get off the couch on a Friday night and expose your kids (and yourself!) to local culture!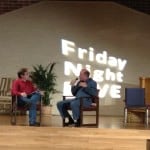 There are free refreshments included with your $10 ticket, and often a no-host wine bar for pre and post-show socializing, so be sure to get there when doors open at 7 for the 7:30 p.m. show. The performance takes place in Lynn Valley United Church at 3201 Mountain Hwy.
The season opener will be a real treat with a Shakespearian twist. Here's what the Friday Night Live website has to say about it:
***
We are going to open this season of FNL with an amazing show!  Fresh off their run at Bard on the Beach, the Grand Theft Impro Players will be celebrating Culture Days with FNL, performing their fantastic brand of musical improv – with a Shakespearian twist!  Spin the Wheel of Will to choose the inspiration for the show!
Ever wondered what it would have been like if William Shakespeare had written Broadway musicals? Well, If the Bard had had the chance to meet Rodgers and Hammerstein, Frank Loesser, or Stephen Sondheim this is the show they would have written!   What you'll see on September 26th will be performers from Grand Theft Impro creating a completely improvised, never been done before and never to be done again, musical theatre play based on the plots and language of William Shakespeare. A Fringe Festival hit in 2012, running in early September at Bard on the Beach for a limited run, and September 26th at Friday Night Live!
Come celebrate BC Culture Days on September 26th at Friday Night Live for William Shakespeare's Improv Musical!  Celebrate the journey of being in the moment!   As always, all ages are invited and welcome!
***
So if you're looking for a fun night out, a chance to laugh and be socialize, a treat for your Friday night dinner guests, or a place to invite that new neighbour who moved in down the street, Friday Night Live is for you. See you there on the 26th!