Did you notice a few extra two-wheelers around Lynn Valley this week? You weren't imagining things.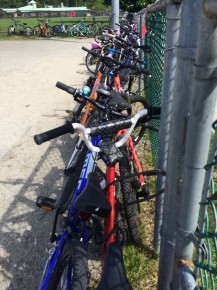 Today wraps up Bike to School Week at Lynn Valley Elementary, a week that kicked off with 135 kids cycling to school with or without parents. They've been treated to energy snacks from local merchants, bike tune-ups from Lynn Valley Bikes, courses from Cycling BC, a visit from the RCMP Safety Bear and more fun activities, including a family bike ride in the Lower Seymour Conservation Reserve on Wednesday evening.
For photos and more details about the week and how it went, read the Lynn Valley Elementary School Parent Advisory Council post here.
Ross Road Elementary will be hosting its own Bike to School Week from May 26 to 30, so if you are driving please keep your eyes peeled for novice riders!