With its trademark anchor in the front lawn, St. Clement's Anglican Church at 3400 Institute Road is a well-recognized Lynn Valley institution. But church members know that not everyone in the neighbourhood feels quite so established in the community.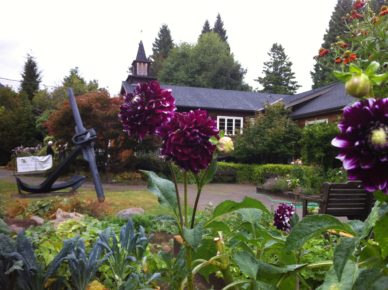 Alecia Greenfield is one of the driving forces behind the Bell & Anchor, a monthly games night at the church that's designed especially for people who are still finding their footing in Lynn Valley. By coming out and meeting others, Alecia hopes that newcomers and friends get the behind-the-scenes info that will help them feel at home in their community.
Along with refreshments and games, the Bell & Anchor can serve up recommendations for dog walkers, child minders, best hiking trails or coffee hang-outs. Whatever the query, church members hope that they or other attendees will be able to serve up the "inside scoop." People who aren't quite as new to the neighbourhood, but still looking for a few more connections, are also more than welcome, says Greenfield.
The Bell & Anchor runs from 6 to 8 p.m. Friday, May 23. The event will generally be held on the second Friday of the month, with the next one scheduled for June 13. Games will be indoors, or sometimes taken outside when good weather beckons – allowing people to enjoy St. Clement's community garden, now in its second year and already looking wonderful.
For more information, call the church at (604) 988 – 4418 or check out their website here.