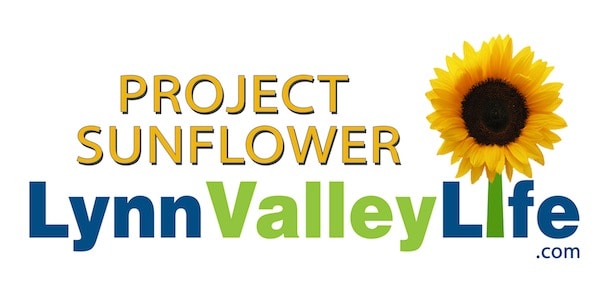 This is the week that many of our LynnValleyLife Network members are receiving their Project Sunflower seed packets in the mail or on their doorstep (let's hope those late-season snow flurries won't be visiting the Upper Lynn area any more!)
We have more seed packets to give away, so please contact us at [email protected] and we'll get you some as long as quantities last. We'd love to see as many homes as possible participate – imagine hundreds of sunflowers blooming throughout Lynn Valley in August! If you'd like to experiment with different varieties, there are lots to choose from at local nurseries.
We'll be offering some prizes, of course, because this is a community project that deserves to be celebrated. We'll tell you more about those later, but just to get you thinking, we'll be looking for winners in the following  categories:
Tallest sunflower
Biggest head* 
Greatest number of sunflowers in garden
Sunniest block – most neighbours involved!
We encourage schools and businesses to show their community spirit by planting sunflowers as well, so let us know if you'd like some seeds dropped off.  If you'd like to help spread the word in the community, we invite you to download and print this Project Sunflower poster. And be sure to talk it up with your neighbours, too!
The recent aforementioned snow flurries were a good reminder that we shouldn't be planting our seeds too early – we would suggest aiming for early May, after the ground has thoroughly warmed up. For more advice on sunflower sowing and growing, click here.
We'd love to hear your Project Sunflower questions, tips, comments, and stories in the weeks to come – and please do send us photos as your seedlings develop. Thanks for helping to brighten up our already-beautiful neighbourhood!
* (on flower, not gardener)