The stems are staggering, the leaves are lion-sized, and the blooms are bursting open. Congratulations to all you Project Sunflower growers who managed to nurse your seedlings through to flowering!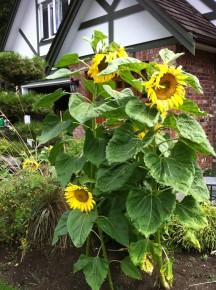 We've seen the results as we've been cruising the neighbourhood streets, and some of the sunflower patches are a sight to be seen. Unfortunately, a fair number of people (and we thank them for their efforts!) planted seeds that rotted in this spring's ongoing rainy weather. Alternately, some of the seedlings that did manage to poke their heads up were promptly decapitated by irksome slugs. But we figure that's all the more reason to celebrate the ones that survived!
We decided that in this inaugural  year we'll keep our PSAs (Project Sunflower Awards) pretty simple. Here are the categories:
1. Tallest Sunflower
2. Most Sunflowers in One Garden
3. Special Neighbourhood Award for Most Gardeners Involved in One Block
4. Best Sunflower Photo
The first three categories are fairly self-explanatory. If you feel like you might be in the running for honours for tallest or most, please send us the details (including your name, address, email and phone number) to [email protected] by 11:59 pm on Sunday, September 8th. 
And we hope that ALL of you enter the best photo contest, because we'd love to have a look at as many Lynn Valley blooms as we can! Please send your digital image to Peggy (same deadline as above). Of course, 'best' is a very subjective judgment – so don't worry about whether it's Ansel Adams quality or not, please just send it in for us to enjoy. Submitted photos will be shared on our website and at the ….
Mollie Nye House Centennial and Fall Fair!!
We are delighted to be teaming up with the organizers of this great new event that's taking place on Saturday, September 21, and making our Project Sunflower award presentations part of their fall fair festivities. We'll also have a Project Sunflower booth there with some fun things to do, so we're looking forward to spending some time with our neighbours and enjoying the rest of that day's goings-on.
So if you're in contest mode, don't just stop with your sunflowers – be sure to check out the Mollie Nye House website for information on all the fall fair categories. Baking, garden produce, crafts and all sorts of other talents will be on display, so put your best foot forward and let's make this a good, old-fashioned, no-holds-barred competition! There are youth categories, too, so please help spread the word when school is back in session.