With less than a month until the Black Bear Neighbourhood Pub closes its doors, owner Ron Slinger is grateful, proud and excited. The neighbourhood institution opened in 1997 with one dream – the same one that led him to open the Queens Cross almost 20 years earlier – to make a place his wife Bobbi would want to spend time.
---
If you build it, they will come
---
When Ron Slinger was hitchhiking through Europe in the 1970s he fell in love with two things – the girl that would become his wife and the charm and comfort of neighbourhood pubs.
"There was nothing like that here," he said from a corner table tucked away in the Black Bear on a recent Sunday morning. "Bobbi's father was a bit of a publican in North Cave, Yorkshire. Here, it was a new concept. It was a three-year project to open the Queens Cross. It was very difficult to get the municipality to consider that it would be something different than a beer parlour."
In the late 70s drinking establishments had a distinctly rough reputation but, Slinger and his business partner Dave Raht had an alternative concept.
"I loved UK pubs. We wanted to build something where our wives would want to go, where they might feel comfortable hanging out by themselves. A place where friends would stop by and share a drink, not to get falling down drunk," said Slinger.
Slinger is very clear that his success at the Queens Cross and the future Black Bear was built on his understanding of one thing: what it's like to be a consumer.
"I am not a chef, I am not a bartender, I am not a server – there's a story! I once 'fired' myself from the Queens Cross after I dropped food in the lap of my friend," laughed Slinger. "I know what it's like to have great service, great food and to feel welcome. I am a facilitator and I can make sure we try every day to succeed. We may not succeed but we will learn and try again."
---
The North Shore's favourite neighbourhood pub
---
Building on the success and lessons of the Queens Cross (which was sold in 1996), Slinger and Raht opened the Black Bear in 1997. 
"You would think it was easier to open a pub almost 20 years later – it was not! Four years working with the municipality. No small business should have to put their livelihood at such risk," he said.
The reward was to build the perfect community pub from the foundations up. Inspired by the original craftsman architecture that once filled Lynn Valley, Slinger commissioned the pub design to be warm and authentic to the neighbourhood. The success has been its track record: the public has voted the Black Bear as the North Shore's Favourite Neighbourhood Pub for a record 27 straight years in the North Shore News' annual awards.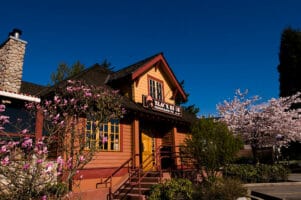 "I am proud as hell to be a pub owner," he said. "We are so fortunate to be a part of Lynn Valley – to be a part of the birthdays, anniversaries, funerals and wakes. We are proud to offer the community their 'Cheers' moment where we do know their name and what they like to drink – that they are comfortable – at home here."
Sitting in the sun discussing the Black Bear, Slinger is content. Even with the doors closing in less than a month, his excitement for the future is palpable.
"There is no bad guy here. It's time. The building is approaching the end of its life. It doesn't make sense to keep patching it up. It was not my idea but it's season is done. I love it. I will miss it."
"It's time to face the music – there is too much maintenance on this old building," said Slinger. "It's going to be sad – but also relief. We can do it right. We can take care of our staff, and we can share a final drink with our customers."
---
---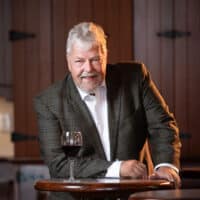 There is energy in Slinger, fiery in his 70s. It is easy to imagine an unstoppable force in his younger years fighting council to bring his dreams to life. Late last month Slinger was inducted into the British Columbia Restaurant Hall of Fame as the 2023 as an Industry Pioneer. The timing couldn't have been better. His fellow inductee Kelly Gordon (2023 Lifetime Achievement) is also his new business partner. It all feels a bit kismet, he said.
"The Black Bear as a venue is tired – but I am not. I need to be busy. We are doing something else that will still be in the community. There is no way we could ever replicate the Bear – so we are not."
Gordon, Slinger and his son-in-law Justin Thompson are launching a 150-seat (plus 50-seat patio) Romer's Fresh Kitchen & Bar in Lynn Valley Centre this February.
"I am going to work until I am 100 years old," laughed Slinger. "I am so excited."
He says the partnership had to fight out numerous other concepts to get the space. His track record of local success was what won Bosa over, said Slinger. 
"I am so happy to live in this community, to work, to be here and make my own fun – my family is just a 10-minute Uber ride down the hill – if my wife was still with me [Bobbi lost her battle with ALS in 2021] it would be perfect. My reward has been this amazing life."
See you later, not good-bye
There isn't going to be much fanfare as the Black Bear goes through its final weeks. 
"It's not a celebration," said Slinger. "It's a closure."
There won't be a party.
"The community has already said it's thanks. Every time a customer comes in, that is thanks. Thank you to everyone who has kept us going for 27 years – that is all the thanks we need. I could have been out of business in a year. I am the proudest guy in town . . . but it ain't over yet."