Planning your Easter weekend? It looks like we'll have a mixed bag, weather-wise, but either way we're encouraging you to get out and support some of our local events.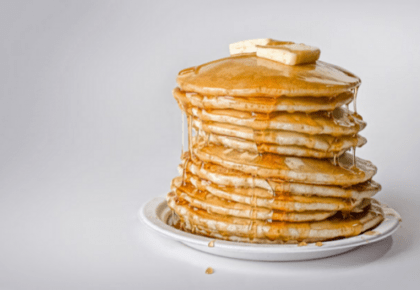 Start your Saturday with a pancake breakfast put on by the Lynn Valley Lions as part of the festivities being offered from 10 a.m. to 12:30 at Lynn Valley Village. The 10 a.m. feast promises to be delicious, and it has been scientifically proven that pancakes contain no calories when being consumed for a good cause.
And what a cause! The LV Lions – numbering just over 30 members – fundraise all year 'round and give back about $70,000 each year to organizations and individuals within our community. Wow … the least we can do to help is bring the family down for a Cook Shack breakfast!
There will be all sorts of activities in the Village that day, including a bunny hunt, and over at the mall there will be a magic show at 11:30 a.m., and Easter Bunny visits throughout the day.
Get out and enjoy … and if you're not convinced that the pancakes come without calories, you can always burn a few off at the Team Finn Family Cycle up at the Seymour Demo Forest, also on Saturday!